Wire Mesh Cooling Conveyor for Raw Bakery Dough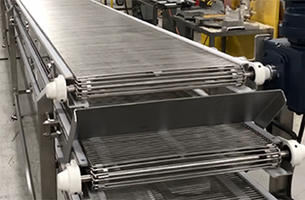 ... now that IS cool. (Yes, pun.)           
(View the brief view of this machine at:  https://youtu.be/LZ3WkTjtLyw)
Winneconne, WI - Multi-Conveyor (www.multi-conveyor.com) -  Multi-Conveyor recently built this stainless steel, 3-tiered wire mesh belt cooling conveyor to transport bakery dough over 94' feet.
An existing fryer feeds the 195° degree product onto this bolted-construction conveyor. It then moves through three tiers of 34' by 20" cooling wire mesh before discharging onto an existing icing machine.
A pitched "chute" guides the product as it gently rotates on its back side. The product then moves through another 34' through the second tier then uses the same angled chute approach on the opposite end, dropping onto the third tier.
The system only runs about 5 feet per minute, during the entire 94' of conveyor belt, allowing time for product to reach the required cooled temperature. Conveyor discharge ends feature minimum diameter nose-bar or minimum diameter sprockets for ease of product transfer. 
Learn more about wire mesh belt conveyors.  Then, choose from over 90 videos of all conveyor technologies that may be used for snack food and bakery products by visiting https://www.multi-conveyor.com/multi-media-center/videos
About Multi-Conveyor
            Multi-Conveyor is a leading manufacturer of standard and custom conveyor solutions for End-Users, Integrators, Engineering firms, OEM's and Contract Packagers across multiple markets. We specialize in conveyor systems for packaging or material handling for nearly every industry, product, shape and size. Our customers report they select Multi-Conveyor for concept/design, engineering skills, quality product, best value and prompt delivery.
            Multi-Conveyor excels in OEE, sanitary conveyors, easy to maintain, clean-in-place or "no tools required" belt changeover systems for nearly any industry.  We direct manufacture stainless steel and mild steel construction conveyors for table top chains, modular plastic belts, fabric belting, wire belt, and new custom sanitary MDR and sanitary gravity roller systems .  Our in-house electrical and engineering departments execute the controls, panels, devices, PLCs, VFDs, HMIs, safety, inspection and sensors needed to integrate our systems with multiple packaging platforms. Quick ship plastic chain and low-profile, small transfer, pre-engineered sanitary and non-sanitary belt systems are available for quick delivery too!
            All of our conveyor construction designs and technologies can be found on our website at www.multi-conveyor.com. Then visit our comprehensive video gallery to learn more.
More from Material Handling & Storage