Wire Harness Tapes meet automotive requirements.
Press Release Summary: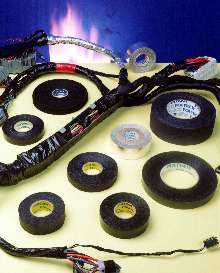 Polyken® pressure-sensitive tapes are available as various engine compartment tapes including heat shielding aluminum foil/fiberglass fabric composites, and flame-retardant polymeric and fabric composite tapes. Tapes resist chemicals, provide up to 60 oz/in. adhesion, and operate at up to 230°C. Rolls are offered from ½-5 in. x 100 ft, and variations include single-sided, double-sided, transfer tapes, specialty tapes, and multi-purpose tapes.
---
Original Press Release:

Wire Harness Tapes Meet All Automotive Requirements


A family of pressure sensitive wire harness tapes that meet or exceed automotive OEM and Tier supplier specifications for engine compartment, instrument panel, interior, exterior, HVAC, acoustical, and other applications has been introduced by Tyco Adhesives of Norwood, Massachusetts.

Tyco Polyken® Wire Harness Tapes feature a variety of engine compartment tapes including heat shielding aluminum foil/fiberglass fabric composites, flame-retardant polymeric and fabric composite tapes, and other constructions that must resist chemicals, provide up to 60 oz./in. adhesion, and operate at up to 230°C. For instrument panels and other interior applications, their line of low-noise, low-fogging tapes meet SAE J1756.

Featuring more than 20 standard types of automotive tapes, Tyco Polyken® Wire Harness Tapes are offered in rolls from ½" to 5" x 100 ft. Variations include single-sided, double-sided, transfer tapes, specialty tapes, and multi-purpose tapes for temporarily securing and/or protecting components and panel edges during assembly or shipment.

Tyco Polyken® Wire Harness Tapes are priced according to type, put-up, and quantity. Samples and price quotations are provided upon request.

For more information contact:

Tyco Adhesives
Thomas Boyle, Mktg. Mgr. Automotive
1400 Providence Hwy.
Norwood, MA 02062
(800) 248-7659 x 6258 FAX (800) 328-4822
e-mail: specialty@tycoadhesives.com
www.tycoadhesives.com