Wire Feeder is both rugged and portable.
Press Release Summary: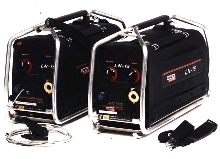 LN-15, with impact- and abrasion-resistant, ABS plastic case, is surrounded by full metal roll cage, made from aluminum alloy tubing. Across the Arc model has built-in contactor. Control Cable model is capable of Surface Tension Transfer® welding. LN-15 is designed for MIG and flux-cored processes using .023 to 1/16 in. solid wire or .035 to 5/54 in. flux-cored wire, at feed speeds of 50-700 ipm. Feeder includes internal, adjustable flow meter.
---
Original Press Release:
Lincoln's New LN-15 Wire Feeder Is The First On The Market with Innovative Design to Offer Portability and Ruggedness
Cleveland, OH-- The new LN-15 wire feeder from The Lincoln Electric Company offers the best combination of portability and ruggedness on the market. The unit has a lightweight, impact/abrasion resistant case surrounded by a full metal roll cage. This combination, a first in the industry, allows the LN-15 to be the perfect wire feeder for the shipbuilding, construction and pipeline industries. Innovative Design
The LN-15's roll cage is made from high-strength, aluminum alloy tubing, while the ABS plastic case is flame and impact resistant. Weighing only 32 lbs., the machine is designed to fit through an 11" x 15" elliptical or 14" circular man way (common in the shipbuilding industry). The LN-15's unique roll cage and lightweight design make it the most maneuverable wire feeder in the industry. Another unique feature of the unit is a modular design, which provides for easy replacements of components during servicing. Two Models Gives Users a Choice
The new LN-15 is available in two styles - Across the Arc and a Control Cable model. The Across the Arc model is the choice for fast set-up, simple welding operations, and features a built in contactor. Simply connect the electrode cable, clip the work clamp to the work and it is ready to weld. Both models are capable of MIG welding functions, including the ability to perform pulse MIG procedures, a first in the portable wire feeder industry. The Control Cable model is also capable of STT® (Surface Tension Transfer®) welding. Both models come standard with an intemal, adjustable flow meter to monitor and change gas flow rate for MIG processes. Also standard is an internally mounted cold feed switch for easy electrode loading and a gas purge switch for verifying gas flow. The LN-15 is specially designed to feed from lightweight 8" diameter spools (up to 4" wide) for the maximum in portability. Rugged Drive System
The unit features a split wire guide, cast aluminum drive system with quick change drive rolls that make set-up easy. Unlike other drives that use incoming and outgoing guide tubes, Lincoln Electric's split wire guide system completely supports the wire throughout the drive system. Both Across the Arc and Control Cable models are designed for MIG and flux cored processes using .023" to 1/16" solid wire or .035" to 5/54" flux cored wire, at feed speeds of 50-700 ipm. Control Panel
The illuminated digital displays allow viewing of voltage and wire feed speed in the most adverse lighting conditions. In addition, the hold last state feature displays these parameters for five seconds after welding has stopped, making setup a one-man job. Accessories
The LN-15 can be used with a variety of welding guns including Lincoln's complete line of Magnum® self-shielded guns for flux-cored operations and Magnum® gas shielded guns for MIG operations. Manufactured under a quality system certified to ISO 9001 requirements, the LN-15 carries Lincoln's 3-year warranty on parts and labor. The Lincoln Electric Company, Cleveland, Ohio, is a world leader in the design and manufacture of arc welding products, robotic welding systems, plasma and oxyfuel cutting. For more information on Lincoln Electric's LN-15 wire feeder request E8.185 by contacting Lincoln Electric at 22801 St. Clair Avenue, Cleveland, OH 44117-1199, via phone at 1-888-355-3213 or at the company's web site: www.lincolnelectric.com.
More from Controls & Controllers