Wire Erosion Machine features 5-axis CNC loader.
Press Release Summary: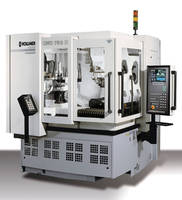 Suited for manufacture of diamond tipped cutting tools, QWD 750H features 5 axis machining including rotating work head in E and A axes that enables precise, repeatable and continuous path profiling of complex tool shapes such as step and profile tools. It allows for cutting difficult axial and radial angles in single set-up. Unit can be equipped with magazines holding 4, 12, or 36 tools and multiple chucking systems, and can be fully automated to provide unattended operation.
---
Original Press Release:
Wire Erosion Technology Ideal for Manufacturing Diamond Cutting Tools
Carnegie, PA .. Vollmer of America Corporation has introduced a new series of wire erosion machines designed specifically for the manufacture of diamond tipped cutting tools. The Model QWD 750H incorporates the unique and patented wire erosion technology that has proven to be the most efficient and successful method for removing large volumes of PCD profiles that cannot be reached by a grinding wheel in a typical tool cutter/grinder. The QWD 750H is a general purpose machine and is ideal for manufacturing cutting tools with larger diameters such as milling cutters. The QWD 750H features 5 axis machining including a rotating work head in the E axis (patented) and A axis that enables extremely precise, repeatable and continuous path profiling of complex tool shapes such as step and profile tools. This enables the electrode to swivel around the center of the head to cut difficult axial and radial angles in a single set-up. This feature is ideal for tools with "internal" cutting edges. Unique to the QWD 750H is the addition of a 5-axis CNC loader. This feature brings a new level of automation into play, making unattended machining a viable option. At the heart of this technology is Vollmer's proprietary generator and ExProg Software that interfaces with any industrial PC. With ExProg Software parts machining can be simulated for review prior to eroding the first workpiece. Completely programmable, the generator can be set for four erosion stages for coarse roughing, roughing, finishing and fine finishing. Settings can be stored and recalled easily to accurately control the amount of erosion required for any stage. This results in consistent surface finishes less than 0.2 microns Ra. The QWD 750H can be equipped with magazines holding 4, 12 or 36 tools and multiple chucking systems such as SK and HSK. The QWD 750H can be fully automated to provide unattended third shift operation. For additional information, please contact Vollmer of America Corporation at 412.278.0655 or visit us on the internet at https://www.vollmer-group.com/en-us/
More from Materials