Wire EDM Machine provides cutting in submerged mode.
Press Release Summary: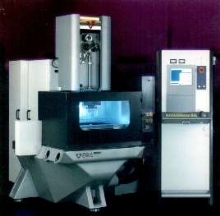 Fixed-bed, 5-axis Model AE 300 features fixed clamping system so that weight of workpiece rests directly on frame. Programs are automatically produced after questions are answered regarding workpiece material, part thickness, and wire diameter. Expert Erosion System controls cutting process and modifies power supply when cutting complex parts. Machine includes conversational CNC, paper cartridge filtering system, and wire feed system that handles up to 100 lb spools.
---
Original Press Release:

New from Ona America, Inc., New Model AE 300 5-Axis Wire EDM Machine


ONA AMERICA, INC., Dayton, Ohio, recently added to its product line its new model, the AE 300 Wire Electrical Discharge Machine (EDM). This compact, high precision fixed-bed machine is designed for high precision cutting in a submerged mode. The 5-axis machine has a fixed clamping system so that the weight of the work piece rests directly on the frame, which results in the guidance system being subjected to only light mechanical forces.

Included in this economically priced machine is ONA's Expert Erosion System that effectively controls the cutting process and modifies the power supply when cutting complex parts, ensuring optimum machine performance without operator intervention. The new HTS (Height Thickness Speed) system drastically improves cutting speeds and precision of straightness in thick parts

The ONA AE 300 incorporates automatic strategy to produce the optimum cutting conditions for a given program. Programs are automatically produced after a few questions are answered such as work-piece material, part thickness, wire diameter etc., allowing an operator with limited experience to easily produce an accurate complex work piece.

In addition, the newly patented built-in, automatic wire threading system can handle a large variety of diameters and types of wires.

Other features of the ONA AE 300 Wire EDM include:
o The EDM can operate 24 hours a day, seven days a week.
o Conversational CNC, enhances operator interface.
o Standard wire feed system that handles up to 100 lb. spools of wire.
o Low wire consumption.
o Wire chopper
o CNC enabled with Ethernet connection. Off-site transmission from the CNC to PC or mobile phone.
o A paper cartridge filtering system is standard. The ONA lifetime mineral bed Dielectric Filtering System is offered as an option.

For information or a product brochure about the AE 300 or complete Series of wire EDMs contact:

Cynthia Martin
Operations Manager
ONA AMERICA, INC.
108 McDonough Street,
Dayton, OH 45402
Phone: 937-463-7645
Toll-free: 888-662-3367
Fax: 937-463-7636
E-mail: cynthia.martin@onaedm.com
Web: www.onaedm.com

ONA AMERICA INC. is a joint venture of ONA Electro-Erosion, S.A., Durango, Spain and GOSIGER Inc, Dayton, Ohio. Founded in Spain in 1952, ONA is the first EDM manufacturer in Europe. A producer of large-scale EDM machinery, ONA has over 10,000 machines installed worldwide. Servicing its installed base with highly trained engineers and technicians, ONA provides manufacturing solutions and after market support. Its success
is directly attributed to its ongoing reinvestment in research and development, continually updating the technology and performance of ONA products.