Wire EDM Machine handles complex items.
Press Release Summary: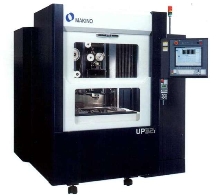 Model UP32i features Crystal Machining Circuit that provides surface finishes down to 3 µin. Ra with no special tooling, jigs, or fixtures. Hardened materials can achieve surface finishes up to 0.5 micron Ry for workpiece size up to 31.1 x 26.4 x 8.7 in. Automatic threading is possible for start holes as small as 0.19 in. diameter. Machine features X/Y/Z travels of 14.7 x 10.6 x 8.7 in. and taper angle of ±15°. WireWIZARD(TM) OS automatically selects optimum machining conditions.
---
Original Press Release:

Makino Introduces UP32i Wire EDM Machine Ultra-Precision Wire EDM Ideal for Complexities and Intricacies


AUBURN HILLS, MI - January, 2005-The Makino UP32i wire EDM machine is ideal for machining complex items that require extensive and intricate machining. High-accuracy precision parts, progressive dies and highly engineered plastic molds for such uses as semiconductor devices, connectors, consumer electronics and precision machine components are all handled easily by the UP32i.

Makino's Crystal Machining Circuit (CMC) provides high-definition surface finishes down to 3 micro-inch Ra with no special tooling, jigs or fixtures. Hardened materials can achieve surface finishes up to 0.5 micron Ry for a workpiece size up to 31.1 x 26.4 x 8.7 inches (790 x 670 x 220 mm). Guide-pin holes equal to that obtained by jig grinding can be burned with the UP32i due to superb roundness capabilities.

Patented Automatic Wire Threading
Unattended machining time is optimized on the UP32i by integrating a variety of auto threading methods. These include high speed, small hole and normal settings, randomly established within the same program based on the necessary application.

The UP32i wire is threaded in 15 seconds with the patented automatic wire threading process from Makino. Within standard specifications, automatic threading is possible for start holes as small as 0.19-inch (4.826 mm) diameter.

Makino guarantees 12,000 machining hours can be achieved out of a single set of wire guides, with wire diameter ranges from 0.003 to 0.012 inches (0.0762 to 0.3048 mm). Vertical alignment is virtually eliminated since the guides do not require removal for cleaning.

WireWIZARD and Patented Processes
The Makino WireWIZARD(TM) operating system delivers high speed machining capability with superior accuracy. This unique control technology has three main graphical components designed for maximum throughput-programming, set-up and run-which provide the basic needs for any application.

The WireWIZARD cutting technology provides superior performance and surface integrity without sacrificing speed, allowing for up to 30 percent faster processing speeds over other EDM technologies. It will automatically select the optimum machining conditions even for shapes where water, pressure changes can occur, such as when starting to machine from the edge of a workpiece.

Like all Makino EDM machines, the patented Makino drop tank design allows setup work to be done easily from three sides. With the UP32i, the machining area is enclosed and isolated from the effects of ambient temperature change in order to minimize the impact of thermal distortion on the work tank and upper head.

The temperature inside the covered area coincides with the dielectric fluid temperature that is controlled in the bed tank through a patent-pending temperature control process. Changes in the overall machine temperature are thus minimized, which helps to ensure high-accuracy machining over long hours of operation.

UP32i Features
The UP32i weighs 9,700 pounds (4,400 kg), and can handle submerged part weights of 1,323 pounds (600 kg); The maximum part size is 31.1 x 26.4 x 8.7 inches (790 x 670 x 220 mm) on a 24.8 x 18.1 inch (630 x 460 mm) table.

The X-, Y-, and Z-axis travel are 14.7 x 10.6 x 8.7 inches (374 x 270 x 220 mm), with a 50-nanometer (0.00005mm) scale feedback system standard for micromachining and enhanced positioning accuracy.

The taper angle of the UP32i is +/-15 degrees (3.9 inches/99.06 mm), with an option to +/- 35 degrees (1.9 inches/48.26 mm). Makino is so confident in the design and construction of the UP32i that the company warrants the machine ballscrews for 10 years.

The UP32i joins the UP53i and the UPJ-2 as technologically advanced entries into the wire-machining marketplace. The UP53i is a larger version of the UP32i, with an X-Y-and Z-axis travel of 20.5 x 14.7 x 12.6 inches (520 x 370 x 320 mm), allowing for a 13,007-pound (5,900 kg) workpiece with a surface finish of 5 micron Ra. The UPJ-2 is the world's only conventional horizontal wire EDM machine. It features standard capabilities for automatically threading and machining with wire as small as 0.00078 inches (0.02 mm) in diameter.

Makino is a global provider of advanced machining technology and application support for the metalcutting and die/mold industries, dedicated to driving out more costs from your manufacturing operation than any other competitive machine tool manufacturer. Makino manufacturing and service centers are located in the United States, Japan, Germany, Singapore, Italy, France Korea, Taiwan, Turkey, China, Mexico, Brazil and India, and? are supported by a worldwide distributor network. For more information call 1.800.552.3288, or visit Makino on the Web at www.makino.com.

More from Fluid & Gas Flow Equipment