Wire EDM delivers high precision in large workpieces.
Press Release Summary: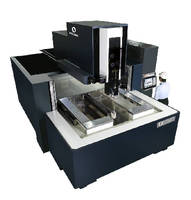 Accommodating max workpiece size of 2,000 x 1,600 x 500 mm, Model U1310 offers X-, Y-, Z-axis travels of 1,310 x 1,010 x 520 mm and is available with optional full stroke 620 mm Z-axis. Machine features HEAT High-Energy Applied Technology, programmable 3-sided drop tank system for accessibility, fixed table for optimized accuracy, and intuitive Hyper-i control. Capable of operating wire sizes of 0.200, 0.250, and 0.300 mm diameter, machine provides shape accuracies within ±3 µm.
---
Original Press Release:

Makino's U1310 Wire EDM Delivers High-Precision with Ease of Use in Large Workpieces



Innovative wire EDM technologies improve machine speed, accuracy and usability



Auburn Hills, Michigan – Makino introduces its latest innovation in wire EDM technology, the U1310 wire EDM machine. Designed to substantially improve ease of operation, machining speed and accuracy in large workpiece applications, the U1310 delivers unmatched versatility and flexibility for a wide range of industries.



"Too often, manufacturers assume that the larger the workpiece, the less precise the performance," said Brian Pfluger, EDM product line manager at Makino. "The U1310 debunks this myth by providing superior levels of precision even when compared to smaller travel EDM machines. With features like Makino's high-energy applied technology (H.E.A.T.) and an innovative fixed table design, operators can expect faster machining speeds on even the most difficult cutting applications and larger workpieces."



The U1310 offers X-, Y- and Z-axis travels of 1310 mm by 1010 mm by 520 mm, and is optional with a larger full stroke 620mm Z-Axis. The standard machine configuration can accommodate a maximum workpiece size of 2000 mm by 1600 mm by 500 mm and maximum workpiece weight of 6,000 kg. Other features of the U1310 include a programmable 3-sided drop tank system for increased accessibility during workpiece loading and part setups, a fixed table for superior machining accuracy, and Makino's intuitive Hyper-i control for improved operator efficiency and performance.



Ease of Operation

The U1310 is one of the world's first large machines to feature a programmable 3-sided drop tank system, enabling excellent accessibility and easy setups for large workpieces and improving ergonomics for machine maintenance and operation. Operators can lower the work tank for unobstructed access from three sides, and can drop the tank below table level for even more accessibility. Additionally, since the work tank height can be adjusted to match the workpiece, the operator can clearly see the machining condition at all times. To reduce the operation interval for wire spool replacement, the machine is standard with a large capacity wire spool unit that accommodates spool size up to 30 kg.



Equipped with Makino's advanced Hyper-i machine control, the U1310 provides a more intuitive operation experience by utilizing a user-friendly interface similar to that found on tablets and Smartphones. A high-definition touch-screen display features Pinch, Swipe and Spread functions and integrates on-board digital manuals, intelligent help functions, and an e-Learning training system for easy, efficient operation. The Hyper-i control can also be customized to individual operators and/or for certain shifts, and an optional dual display screen can be configured for use with an optional onboard CAD/CAM system.



Superior Accuracy and Precision

The U1310 maintains superior machining accuracy with a fixed work table design that provides excellent machine rigidity, even when the table is loaded with a heavy workpiece. The combination of machine rigidity with machining technology and control software delivers exceptional roundness, and operators can expect shape accuracies within ±3 µm and a best surface finish of 0.3 µm Ra / 2.2 µm Rz.  The machine is also capable of operating wire sizes of 0.200, 0.250, and 0.300mm diameter.



Accuracy is also ensured by the U1310's dielectric fluid cooling unit, which has been integrated into the base machine casting and keeps the temperature inside the machine at the same level as the dielectric fluid temperature. This provides greater thermal stability, reducing distortion and ensuring stable high-machining accuracy even during long hours of machining.



H.E.A.T. Configurations

The U1310 is available with H.E.A.T. configuration, featuring Makino's High Energy Applied Technology. This configuration incorporates a combination of flushing enhancements and special generator upgrades that greatly increase cutting speeds on the most difficult machining applications. H.E.A.T. technology is designed to provide unparalleled wire EDM machining speed and accuracy in parts featuring poor or difficult flushing conditions. This performance enhancement enables up to 43 percent faster machining times and up to 33 percent reduction in wire consumption, compared to previous technology.



About Makino

A world leader in advanced CNC machining centers, Makino is committed to providing high-performance, leading-edge machining technologies and innovative engineered process solutions that enable manufacturers to focus on making what matters. Makino offers a wide range of high-precision metal-cutting and EDM machinery, including horizontal machining centers, vertical machining centers, 5-axis machining centers, graphite machining centers, and wire and Ram EDMs. Makino's flexible automation solutions provide reduced labor costs and increased throughput in a variety of production volumes and designs. Makino's engineering services offers industry-leading expertise for even the most challenging applications across all industries. For more information, call 1-800-552-3288 or visit makino.com.



For more information, additional images and releases, visit www.makino.com/media.  Connect with Makino on Facebook at www.facebook.com/makinomachine.  Follow Makino on Twitter at www.twitter.com/makinomachine.



Media Contact:

Jake Smith

gyro

513.346.3492

makino@gyro.com

More from Architectural & Civil Engineering Products