Wire and Tubing Cutter cuts fine material to 1/2 in. OD.
Press Release Summary: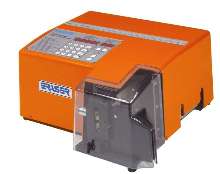 Automatic, microprocessor-controlled Model WC500 feeds, cuts, and counts material to appropriate programmed length and number of pieces without material handling problems associated with limp or fine material. Cutter is suited for preparation of all types of wire, solder, sleeving, tubing, and small cables.
---
Original Press Release:
WC500 Automatic Wire and Tubing Cutter

The WC500 Automatic Wire and Tubing Cutter is a microprocessor controlled unit ideal for cutting fine material to 1/2" OD (12.7mm dia). The WC500 feeds, cuts and counts material to the appropriate programmed length and number of pieces without material handling problems often associated with limp or fine material. The WC500 is perfect for the preparation of all types of wire, solder, sleeving, tubing and small cables and allows for a high quality, accurate cuts.

Since 1911, The Eraser Company of Syracuse, NY has manufactured a wide range of industrial products including wire, cable and tubing cutters, wire and cable strippers, wire twisters, wire brush wheels, fiber optic tools, dereelers, infrared heating equipment, measuring tools, and fybRglass erasers. The company is ISO 9001:2000 certified. The company offers Free E.S.P. (Eraser Sample Program). Send a 5-10 foot sample of your material and Eraser will recommend the best solution for your processing needs from its line of more than 200 products. For unique processing needs, Eraser will custom design a solution for you. For more information on Eraser's entire product line visit www.eraser.com or call 315-454-3237.

ERASER CONTACT: Laura Prattico
(315) 454-3237, ext. 268
lprattico@eraser.com
More from Packaging Products & Equipment