Wire and Ribbon replace 100% precious metal.
Press Release Summary: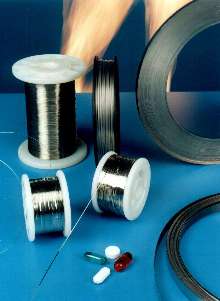 Custom engineered platinum clad wire and ribbon are offered with various core materials with cladding thickness from 2% and above. Platinum clad wire is offered in sizes from 0.05-10 mm OD, and ribbon sizes range up to 25 mm wide. Platinum exterior provides corrosion resistance and thermal and electro-chemical stability. Core materials can include titanium, tantalum, copper, silver, stainless steel, niobium, molybdenum, nickel, iron-nickel, and nitinol.
---
Original Press Release:

Platinum Clad Wire and Ribbon Replace 100% Precious Metal


Platinum clad wire and ribbon that typically cost 10 times less than solid products and are engineered to meet specific customer application requirements are available from Anomet Products, Inc. of Shrewsbury, Massachusetts.

Anomet Platinum Clad Wire and Ribbon are custom engineered to meet specific application requirements and replace solid products with functionally equivalent types that are less expensive and provide more stable and predictable long-term pricing. Featuring a variety of core materials with cladding thickness from 2% up, platinum clad wire is offered in sizes from 0.05 mm to 10 mm O.D. and as ribbon up to 25 mm wide, depending upon the desired properties.

By having platinum on the outside, Anomet Platinum Clad Wire and Ribbon has high corrosion resistance and thermal and electro-chemical stability. Core materials can include titanium, tantalum, copper, silver, stainless steel, niobium, molybdenum, nickel, iron-nickel, and nitinol. Tri-metal combinations such as platinum-titanium-copper to achieve high strength and conductivity with high corrosion resistance and thermal stability are also offered.

Anomet Platinum Clad Wire and Ribbon are priced according to configuration and quantity; typically 10 times less expensive than solid products. Literature and price quotations are available upon request.

For more information contact:

Anomet Products, Inc.
Robert F. Gallant, Marketing
830 Boston Turnpike
Shrewsbury, MA 01545
(508) 842-3069 FAX (508) 842-0847
e-mail: info@anometproducts.com
www.anometproducts.com


More from HVAC