Winsted Expands Prestige Product Line With New Sight-Line Consoles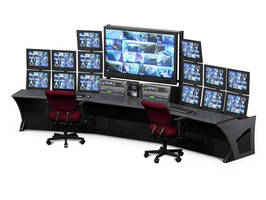 MINNEAPOLIS, April 3, 2008 - Expanding the popular Prestige Line of control room consoles, Winsted announces the new Sight-Line series for command and control applications. With Sight-Line, Winsted has once again created a one-of-a-kind console that is both extremely functional and striking in appearance.

The new Prestige Sight-Line console from Winsted features the innovative Versa-Trak monitor array mounting system, which offers the ultimate in adjustability. The Versa-Trak system allows users to easily modify sight lines and monitor viewing angles based on personal needs.

All Sight-Line consoles come standard with Winsted's exclusive TruForm work surface and decorative end panels, both of which are available in a variety of colors and shapes. Custom work surfaces and end panels are also available in laminated MDF or solid surfaces.

Sight-Line is designed with Winsted's Insta-Lock fastening system, which greatly reduces the time necessary to construct and install the consoles. The two-, four- and six-foot modular frames can be shipped knocked-down to save on freight charges or partially set-up for easy installation. Winsted can even provide a turnkey on-site installation with factory technicians.

Numerous design considerations make power and cable/wire management easy and efficient. An optional 10-1/2 inch high (6U) rack turret with vented top is available. Additional options include a swing out CPU shelf on the door, a door pocket for storage of files and a 19-1/4 inch tapped rack rail kit for 2-foot base model consoles. Openings for a universal data mounting plate and duplex power are conveniently located at the back of the work surface.

Winsted catalogs are available in print or PDF format by calling 1-800-447-2257 or e-mailing info@winsted.com. Log on to www.winsted.com/quote for a free online technical furniture quote. Winsted's equipment layout software (WELS) is available for free at: www.winsted.com/wels. For more information on Winsted products, visit www.winsted.com.


Related