Windows with Composite Framing promote efficiency, comfort.
Press Release Summary: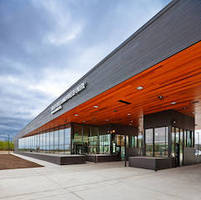 INvent.PLUS™ Series features composite framing that delivers R5 (operable units) or R6 (fixed window) performance. Also, 3 11/16 in. frame depth incorporates such energy conserving features as 44 mm polyamide thermal barriers, convective baffles, and foam cavity fillers. Windows carry AAMA's AW-100 Architectural Performance Class rating and can achieve CRF as high as 83 per AAMA-1503, U-Factor as low as 0.16 BTU/hr.sqft.°F per NFRC 100 standard, STC ratings of 34–41, and OITC ratings of 28–35.
---
Original Press Release:

Wausau Unveils INvent.PLUS Windows with Composite Framing



New AW-100 Class windows offer R6 performance



INvent.PLUS™ Series windows

During the 2013 International Greenbuild Conference, Wausau Window and Wall Systems will debut its new INvent.PLUS™ Series windows meeting European benchmarks for thermal performance, while responding to the North American aesthetic for clean style and narrow sightlines. The innovative, composite framing delivers R5 performance for operable units and R6 for fixed windows to support buildings' goals for energy efficiency and occupant comfort.



"This no-compromise product incorporates a variety of engineered polymers, as well as aluminum extrusions, each where the inherent materials properties are best suited," says Wausau's vice president of technical services, Steve Fronek, P.E., LEED® Green Associate. "Low U-Factors allow broad expanses of vision glass to meet Model Energy Codes and triple insulating glass further enhances thermal performance. Too often in the past, best-in-class U-Factors required the designer to accept bulky, wide or non-co-planar profiles. INvent.PLUS Series windows are both energy-efficient and appealing to U.S architectural tastes."



INvent.PLUS windows' composite framing combines 55% engineered polymers and 45% aluminum extrusions by volume. The aluminum contains recycled content averaging 70% or greater. The 3-11/16-inch frame depth incorporates several new energy-saving features: custom-designed 44mm polyamide thermal barriers from Technoform Bautec, convective baffles and foam cavity fillers, combined and optimized using both European and North American finite element thermal modeling software tools.



Paul Crosby, U.S. Customs and Border Protection Land Port of Entry in Warroad, Minn.



Thermal performance, natural light, outside views, condensation resistance, low-emitting materials, durability and recycled content are all attributes of INvent.PLUS windows that may aid buildings seeking certification under such programs as the U.S. Green Building Council's LEED Green Rating Systems. For more than 30 years, Wausau's experienced staff has provided products and support services to meet projects' energy and environmental objectives, including dozens of LEED-certified buildings.



Within Wausau's LEED-Silver certified manufacturing center, quality-controlled, factory fabrication and glazing ensure real-world performance equal to the laboratory. INvent.PLUS high-performance windows are pre-engineered and factory-glazed as part of the Advantage by Wausau® standard product offering. Available on an accelerated delivery schedule, these competitively priced windows are backed with an industry-leading warranty of up to 10 years.



Rated as American Architectural Manufacturers Association (AAMA) AW-100 Architectural Performance Class, the windows are tested for 0.10 cfm/sqft air infiltration, 15 psf static and cyclical water resistance, and structural integrity. INvent.PLUS windows can achieve a Condensation Resistance Factor (CRF) as high as 83 per AAMA-1503 and a U-Factor as low as 0.16 BTU/hr.sqft.ºF per the National Fenestration Ratings Council's NFRC 100 standard. Sound Transmittance Class (STC) ratings of 34 to 41, and Outdoor-Indoor Transmission Class (OITC) ratings of 28 to 35, provide occupants with quiet interiors, which are especially important in health care and educational applications.



Paul Crosby, U.S. Customs and Border Protection Land Port of Entry in Warroad, Minn.



Complementing curtainwall and storefront systems, INvent.PLUS windows have a 1-inch exterior glass offset and narrow sightlines. Operable windows are offered as in- or out-swing casements, top-hinged, hopper or awning vents. Punched openings, ribbon windows or full-height window wall also are available.



Carrying triple glazing with ease, operable units feature heavy butt hinges or concealed stainless steel four-bar friction hinges. Integral between-glass blinds manage light and glare, while minimizing maintenance. Exterior muntin grids and panning systems with "T" mullions also are popular options for renovation projects.



Frames, panning and muntin grids may be finished with liquid paint, powder coatings or anodize. Dual-color finishing can be accommodated to match different interior and exterior color schemes. With a palette exceeding 30,000 color choices, painted finishes may be requested with ultra-low volatile organic compounds (VOC) and VOC-free content. Durable, VOC-free anodize finishes also may be selected, including a patina-free copper.



Product descriptions, architectural details, AutoCAD files, specifications and technical guides for Wausau's INvision Series -- and for all of Wausau's windows, doors, specialty glazing and cladding products, and curtainwall systems -- can be found at WausauWindow.com.



Nationally recognized for its innovative expertise, Wausau Window and Wall Systems is an industry leader in engineering window and curtainwall systems for commercial and institutional construction applications. For more than 55 years, Wausau has worked closely with architects, building owners and contractors to realize their vision for aesthetic beauty, sustainability and lasting value, while striving to maintain the highest level of customer service, communication and overall satisfaction. Wausau is a part of Apogee Enterprises, Inc., a publicly held, U.S. corporation.



Wausau and its staff are members of the American Architectural Manufacturers Association (AAMA), the American Institute of Architects (AIA), the APPA – Leadership in Educational Facilities, the Construction Specifications Institute (CSI), the Design-Build Institute of America, the Glass Association of North America (GANA), the National Fenestration Ratings Council (NFRC) and the U.S. Green Building Council (USGBC).



Wausau's media contact: Heather West, 612-724-8760, heather@heatherwestpr.com

More from Software