Window/Building Washing System is automated solution for high-rises.
Press Release Summary: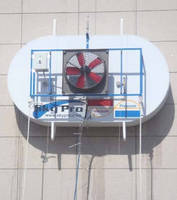 Operating up to 3 ft away from target surface, Dual Skydrowasher(TM) cleans high-rise building windows and exterior using high-pressure water. Automated system features 2 high-pressure spray bars and offers 9 ft wide cleaning path. Weighing 400 lb with hoses, system uses turbo nozzles mounted within high-impact plastic shell and does not require electricity. Water pressure-based operation enables cleaning rates to 18,900 ft²/hr or 315 ft²/min.
---
Original Press Release:
A New Touch-less, Dual Skydrowasher(TM) Window and Building Wash System is Now Available
Skydrowasher(TM) Window and Building Washing System is an automated washing solution for high-rise window cleaning services and commercial building owners. Shakopee, Minn.-Sky Pro announces a new automated window and building wash system that cleans a high-rise building's windows and exterior using high pressure water to "scrub" the surface from a distance up to three feet. The Dual Skydrowasher(TM) High Pressure Window and Building Washing System is ideal for cleaning buildings with window offsets, curves, recesses, overhangs, protrusions, inset glass, asymmetrical frames or other architectural features that make traditional cleaning methods difficult, if not impossible. The new model has two high pressure spray bars so you get double the cleaning capacity. The original Skydrowasher(TM) System has a single spray bar. Weighing only 400 lbs. with hoses, the new Dual Skydrowasher(TM) System uses turbo nozzles mounted within a high-impact plastic shell. There are few moving parts and it does not require electricity to operate as it runs on water pressure alone. Because it's so lightweight, it is easily transported from building-to-building, as is the three-arm roof top outrigger. This outrigger is designed specifically for use with the Dual unit. With its 9-foot wide cleaning path, the dual Skydrowasher can clean at an incredible rate of 18,900 square feet per hour or 315 square feet per minute. For an extra clean surface, run the Dual Skyrdowasher System over the area twice. Even factoring in a two-pass clean, this unit will scrub at a rate of 9,450 square feet per hour. At this speed, the Dual Skydrowasher(TM) System cleans 7 to 10 faster than two men on a scaffold. This dual unit will pay for itself within the first year. And, the Skydrowasher(TM) System is safer to use than men on a scaffold or boatswain's chair. See how the system works in these videos. The standard package includes the Dual Skydrowasher(TM) System, a step-up pump, hoist motor, a custom three-arm outrigger and all hoses and cables-everything you need to start cleaning. The only add-on option you might consider is a water filtration system so the windows and building dry "spot free." SkyPro recommends using D.I. (de-ionization) tanks to filter the water. These tanks are easily moved to and from the building and can usually be rented from a local "soft water" company. Custom features like rear mounted fans for unusually high buildings or surface mounted skis can be added to the Dual Skyrdowasher System to move it around protrusions greater than 2 feet on the building exterior. For those real stubborn building stains, use an "in-line" water heater positioned on the roof deck. Whatever the design of your building, SkyPro can customize your Dual Skydrowasher System to clean it efficiently and rapidly. All Skydrowasher(TM) High Pressure Window and Building Wash Systems deliver these benefits:
Fast return on investment (ROI)
Labor savings of 70-80%
Cleans buildings with offsets, protrusions, recesses or curvatures
Cleans windows and exteriors from up to 3 feet away
Lightweight and mobile, easy to transport
Now a safer job; it's easier to find and retain labor
Safely operates from the top of your building
No rails or scaffolding needed- the system operates from a compact three arm roof rigging
Cleans the entire exterior; not just the glass
Uniform cleaning using only spot-free, crystal clear water-No chemicals required!
No buckets, chairs, squeegees or other objects that can fall
Cleans 7 to 10 times faster than hand washing
Optional in-line water heater delivers hot water for removing stubborn stains
Potential dramatic savings in liability insurance and worker's compensation insurance All Sky Pro Window Systems are easy to maintain. The Dual Skydrowasher(TM) System is one model in the Sky Pro line of window and building cleaning equipment. The simple, yet common sense design of all Sky Pro models allow the user to perform maintenance and repair quickly at a modest cost. For example, if the nozzle breaks, simply screw in a replacement. General maintenance is limited to periodic greasing of bearings, tightening of bolts and inspecting the steel tether cable for signs of stress. The high impact plastic shell is strong and lightweight. Have a great ROI and go green at the same time. If you are an architect, building owner, window washing company, building management or maintenance company, you should seriously consider investing in the Sky Pro System. Eliminating the danger associated with manual window washing, combined with a reduction in labor and insurance costs of up to 80%, make Sky Pro System the next logical step in window and building washing. All Sky Pro® Systems use filtered water without any chemicals or soaps that can harm the environment. The Sky Pro® System is the perfect automatic window washing solution for high-rise window cleaning services and commercial building owners. For more information, visit www.skypro.com or call Mike Dancha at 1-800-800-WASH. About NuStar, Inc. Headquartered in Shakopee, MN, NuStar, Inc. is a privately-held corporation specializing in the design, manufacture, marketing and sale of rollover automatic car wash equipment, pet wash salons and automatic window washing equipment. For more information, visit: www.nustarinc.com.
More from Fluid & Gas Flow Equipment