Winch Drives feature planetary design.
Press Release Summary: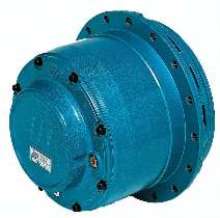 Suited for 3-12 ton applications, Series PWD 2100 offers hydraulic version that allows for direct fitting of cartridge axial piston motors, and universal input version that offers external 5 in. diameter brakes with associated backstop device. For line pulls in excess of 12 tons, Series SLW-SCW is based on S Series gearboxes with epicyclic gear design. Both series feature double sealing and optional epoxy paint finishes to withstand rigorous conditions.
---
Original Press Release:

Brevini USA, a Fully Owned Subsidiary of Brevini Riduttori, to Introduce New High-Efficiency Planetary Winch Drives at CONEXPO 2005


(Vernon Hills, IL - January 14, 2004) Brevini Riduttori and its North American division, Brevini USA, will introduce two new lines of high-efficiency planetary winch drives at CONEXPO 2005 at the Las Vegas Convention Center, Las Vegas, Nevada, March 15-19, 2005. Brevini Group will be located in Hall South 4 of the Convention Center, booth 15449.

The compact Brevini PWD series is designed for winch applications from 3-12 tons, and the SLW-SCW series is for operations requiring line pulls in excess of 12 tons. Both types are designed for easy integration into winch drums. The robust construction of these new series will withstand the rigorous conditions found in the most demanding work environments, such as marine applications, through double sealing and optional epoxy paint finishes. The planetary design of the new units allows engineers to simplify winch arrangements and reduce the overall size and weight of winch assemblies.

The smaller PWD 2100 winch series is offered in two versions. The hydraulic version is highly compact and convenient, allowing for direct fitting of cartridge axial piston motors. The universal input version offers the alternative of external 5" diameter brakes with an associated backstop device.

The SLW-SCW winch drives for applications over 12 tons are based on the new Brevini "S" Series gearboxes. These gearboxes feature a revolutionary new epicyclic gear design that increases the power of the unit without affecting overall weight. The result is up to 60% more torque output than other gearbox designs of equivalent size and weight. The SLW series units employ this unique torque advantage in up to three rotating stages, with a fourth, a bevel unit (SCW), planned for the near future.

"Adding the PWD and SLW-SLC series units to our line of Brevini planetary gearboxes is a real plus for our customers," said Salvatore Spada, Brevini USA President and COO. "We can now offer a complete range of high-efficiency gear reducers, hydraulic pumps, motors, directional control valves, and AC and DC hydraulic circuit packs for virtually any industrial or mobile application."

Brevini will also have a wide representation of other Brevini planetary gearboxes on display for CONEXPO visitors. To learn more about Brevini Group and products please contact Brevini USA at (888) BREVINI (273-8464) or visit www.breviniusa.com.

About Brevini USA
Brevini USA is a supplier of high quality planetary and helical gearboxes for a wide range of industries and applications - from manufacturing to agriculture, transport to mining. The company is headquartered in Vernon Hills, Illinois, a Chicago suburb. Its facility includes a large warehouse and assembly area, where the company builds most gearboxes from stock. The quality system of Brevini USA, including manufacturing and design, is registered to the ISO 9000:2000 standard. Brevini USA is a division of the power transmission group of Brevini Riduttorti, S.p.A., Reggio Emilia, Italy, a worldwide manufacturer of planetary and helical gears.