Williams Tool Acquires New Hardinge T42, a High-Performance Horizontal Turning Center with Big Bore 2" Thru Bar Capacity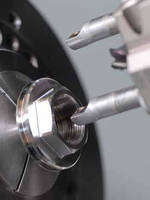 Williams Tool has acquired a new Hardinge T42 turning machine with Big Bore option which gives us 2.0" thru bar capacity. Additional features included:



• Spindle Nose: A2-5 / 16C (A2-6 / 20C Big Bore Option)

• Collet Capacity (in/mm): 1.625 / 42 (2 / 51 Big Bore Option)

• Spindle Through Hole (in/mm): 1.890" / 48

• Chuck Size (Chuck not Included) (in / mm): 6 / 150

• Spindle Motor (hp / kW): 15 / 11

• Max Spindle Speed (rpm): 6,000 (5,000 Big Bore Option)

• Number of Turret Stations (BMT-45 / block type): 16 / 12

• CNC Control: Fanuc 31i



The Hardinge T-Series turning centers set the standard in high-precision and high-performance turning that will take your part quality and manufacturing capabilities to new heights. T-Series machines are designed to exceed your expectations and are ideal for two axis high-precision machining or complex multi-tasking operations that require a high level of precision, delicate part handling and for parts made complete in a single setup. Machine packages are pre-configured, for the proper machine tool configuration to produce your parts in the most effective and profitable manner.



SPC (statistical process control) for size repeatability, surface finish quality and thermal stability is a hallmark for T-Series turning centers which are built and tested to ensure "in-tolerance" parts and surface finishes. T-Series machines are also ideally suited for hard milling applications.



• "Soft turn" and "hard turn" on the same machine

• Metal removal rates of 4 to 6-times greater

• Eliminate operations

• Multiple operations in a single setup

• Finer micro finishes

• Lower cost tooling inventory



For more information or a for a quote, please call Jeff Gerling, Williams Tool at 315-737-7226, ext 308.



More from Construction Equipment and Supplies