Wilke Enginuity Uses Laser Cutting for Promotional Signage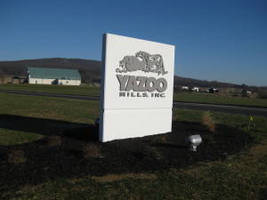 Many of our customers know by now that we at Wilke Enginuity use the most state-of-the-art technology to perform laser cutting services that lead the industry. But did you also know that our capabilities include laser cutting for promotional signage? It's yet another area in which we are laser experts.



While this hasn't been the primary focus of our business, many of our clients work involves exhibits and architecture, and through them, we are continually seeing more of a demand for decorative and custom work. Working with an array of materials—including wood, plastics, metals, Plexiglas, laminated wood, and so much more—our ability to accommodate any and all needs means whatever your custom-design signage requirements are, we can handle them.

What are some of the many benefits of our beautiful, high-quality promotional signs? With the ability to produce signs up to 6 or more feet wide and several feet tall, your company's name and message will be seen by countless people from a distance. They can also be displayed both indoors and outdoors, making your marketing abilities virtually limitless.



One example of a customer for whom we've created a beautiful and effective sign is Yazoo Mills in New Oxford, Pennsylvania,  http://www.yazoomills.com a leading manufacturer of corrugated shipping tubes since 1902. The contractor, building the new Yazoo warehouse approached Wilke in need of signs for their lobby and the outside of their facilities, and we worked closely with the contractor and Yazoo on the design of both of the signs incorporating their logo. Using stainless steel, we performed laser cutting that resulted in a beautiful sign that we, and our client, we extremely proud of.



Stay tuned for more blog posts featuring examples of our work—from projects for major acoustical companies to laser engraving on art and sculptures—and feel free to contact us with any questions by phone 800-936-6201 or visit our website www.wilkelaser.com.





Related