Wilden® Advanced(TM) Series Provide Energy Efficient AODD Pump Alternative in Paint & Coatings Applications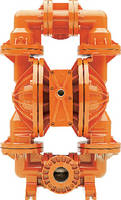 Grand Terrace, CA - Wilden®, the worldwide leader in air-operated double-diaphragm (AODD) pump technology, is pleased to announce that its Advanced(TM) Series Metal Air-Operated Double-Diaphragm (AODD) Pump technology features the operational advantages necessary to overcome the challenges in the ever-evolving, oftentimes difficult operating conditions found in Paint & Coatings manufacture.

As significant changes have occurred over the years to the materials used, paint-and-coatings production has become more of a refined science. That means manufacturers must utilize robust equipment that offers the highest degree of performance in terms of reliability, product-loss prevention, environmental protection and energy efficiency, while retaining the versatility required to handle a wide variety of components, all of which possess unique handling characteristics. Wilden's Advanced Series pumps possess the versatility that allows them to be used at every stage of the paint-and-coatings production process, from raw-ingredient transfer to mixing, batching and filling. The Advanced pumps are ideal in all of these applications because most require operating pressures of less than 125 psi, they offer shear-sensitive operation, they can handle high-viscosity fluids, they have a leak-free bolted configuration and they can overcome the dead-heading that can occur during filling operations, which motor-driven pumps can't complete effectively.

Advanced Series pumps also benefit from Wilden's Pro-Flo X(TM) Air Distribution System (ADS), which delivers cutting-edge operational flexibility through its patented Efficiency Management System (EMS(TM)). The EMS allows the user to optimize the ADS for any application demands, through the use of a control dial that enables the flow rate that best suits the specific application to be manually selected. Advanced pumps are also available with full-stroke PTFE diaphragms that deliver increased product displacement per stroke, resulting in improved performance and efficiency.

For more information on any of Wilden's AODD pump products, please go to www.wildenpump.com. Wilden is an operating company within Dover Corporation's Pump Solutions Group (PSG®). For more on PSG, please go to www.pumpsg.com.

Jim Wilden, founder of Wilden Pump and Engineering Co., revolutionized the pumping industry when he invented the air-operated double-diaphragm pump in 1955. Since then, Wilden has created a line of distinctive pumps that have proven to be trustworthy solutions to pumping applications in a wide variety of industries. Wilden-headquartered in Grand Terrace, California, USA-is a member of Dover Corporation's Pump Solutions Group (PSG®).

More from Architectural & Civil Engineering Products