WiFi Temperature Data Logger provides medical monitoring.
Press Release Summary: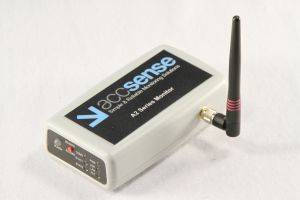 Featuring connections for 2 external RTDs and Thermocouple sensor, A2-05 Temperature Data Logger provides temperature measurement in medical refrigerators, freezers, cryogenic storage, and incubators. Advanced alarm features enable email, text, and automated phone messages whenever temperatures go out of specification. In event of network connection loss, datalogger will send automatic Power or Internet outage alarms and store up to 256 data points until connection is restored.
---
Original Press Release:

Accsense Announces Upcoming WiFi Temperature Data Logger



Delivering State of the Art Medical Monitoring



CHESTERLAND OH – Accsense is announcing a new WiFi version of its bestselling A2-05 Temperature Data Logger for remote temperature monitoring in hospitals, clinics and pharmacies. The new unit is fully functional and we've sent five pods to the field to finalize testing before their upcoming release. The new A2-05 version accommodates the increased market demand for an affordable WiFi datalogger and state of the art medical monitoring. Does YOUR facility need accurate, reliable temperature monitoring? Give an Applications Specialist a call at (800) 956-4437 today!



The popular Accsense A2-05 Data Logger is designed for high-accuracy temperature measurement and alarm in medical refrigerators, freezers, cryogenic storage and incubators. The data logger has connections for 2 external RTDs and a Thermocouple sensor making it incredibly cost effective for multi-point monitoring. In the event of a network connection loss, the datalogger will send automatic Power or Internet outage alarms and store up to 256 data points or until the connection is restored.



The Accsense Advantage:




Receive alarms via email, cell phone, pager, or landline--You can even send the same alarm to multiple locations!



Turn-key installation and operation—No expensive training sessions needed!



Automatically sends data to Accsense secure servers via WiFi connection



Securely Encrypts data in line with several industry regulations



View Multiple Pods in a single account



Our A2-05 pods are widely used with medical refrigerators and freezers for vaccine monitoring, blood and tissue storage, and more. These compact data loggers are also ideal for ultra-low applications and cryogenic monitoring in liquid nitrogen chambers. With Accsense there's little-to-no need for IT department involvement; staff just plug the pods in and let them run. Worries over regulatory concerns raised by manual temperature checking are immediately made obsolete. Advanced alarm features enable email, text and even automated phone messages whenever temperatures go out of specification.



For effective remote monitoring, users can login using any Web browser to retrieve reports and graphs or modify the system's configuration from anywhere Internet connection is available.



With Accsense, personnel soon become knowledgeable in every aspect of the system's operation. These cost-effective temperature pods increase safety measures and decrease staff response times while automatically sending their data to the secure servers at Accsense which encrypt all the data. In case of a power failure or network connection loss, these wireless pods will keep running for 6 hours on their internal lithium batteries, during which the data loggers continue to buffer data.



We can offer NIST Traceable Calibration Certificates, Temperature Probes, and Thermal Buffers for your specific application. Whatever temperature range you need to monitor, Accsense can cover it. We also provide FREE expert technical support to help your personnel get the best use out of your new system.



Accsense temperature monitoring systems are installed in many of the world's most prestigious healthcare centers including the Cleveland Clinic Foundation, New York Hospital Queens, Stanford Hospital and Clinics, the Smithsonian Institute, and the US Navy Medical Center, among many others.



For more information on our new Accsense WiFi Temperature Data Loggers, additional models logging other values such as humidity, current/voltage and more, or to find the ideal solution for your application-specific needs, contact a CAS Data Logger Applications Specialist at (800) 956-4437 or visit the website at www.DataLoggerInc.com.



Contact Information:

CAS DataLoggers, Inc.

12628 Chillicothe Road

Chesterland, Ohio 44026

(440) 729-2570

(800) 956-4437

sales@dataloggerinc.com

www.dataloggerinc.com

More from Architectural & Civil Engineering Products