Industrial / Specific Purpose Computers
Widescreen Panel PCs monitor production processes.
Press Release Summary: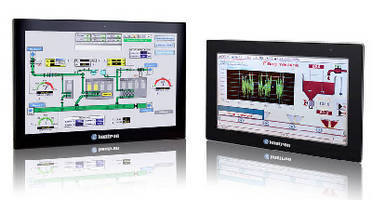 Based on Intel® Atom™ D2550 processor with two 1.86 GHz cores and up to 4 GB of DDR3 memory, Kontron Micro Client 3 Series includes 15.6 in. display and support for WLAN communication. Scalable from 15.6–22 in., Kontron OmniClient Series is based on Intel® Core™ i5/i7 processors, which have up to four 2.7 GHz cores and up to 16 GB DDR3 memory. Both feature multi-touch support, allowing users to rotate and zoom complex visualizations with 2 fingers or swipe to scroll through lists of data.
---
Original Press Release:

Kontron Reinvents Its Panel PC Lineup with Two New Multi-Touch, Scalable Panel PCs in a Widescreen Format



New Panel PCs help improve production process monitoring in an updated modern industrial design



Eching, Germany, – At this year's SPS IPC Drives in Nuremberg, Germany, Kontron (hall 7, stand 306) announced a comprehensive expansion of its current Panel PC range with the addition of two new product series. The first is the Kontron Micro Client 3 series for monitoring and controlling individual production lines. The second is the Kontron OmniClient series for supervising and managing complete manufacturing facilities. A major new feature added to these new Panel PC ranges is the multi-touch support, with touch-sensitive glass displays, making them intuitively easy to use. Another attractive feature is their updated industrial design in a widescreen format providing a smooth, edgeless display. Kontron's new Panel PCs will become employed as shop-floor systems in processing industries such as the chemicals and pharmaceutical sectors, food and beverages, and the power sector, plus sophisticated machines and plants or factories and facility management. In short, they are destined to be used whenever machine and plant operators feel the need to have convenient Panel PC systems to improve monitoring and managing all their production processes.



The two lines of Panel PCs have a particularly high amount of intuitive gesture control, as allowing users to rotate and zoom complex visualizations with two fingers, or swipe to scroll through lists of data. These actions can be carried out with great precision due to the highly touch-sensitive design. Their widescreen format also increases the size of the display by one-third, allowing more space for gesture control and visualization. Utilizing the Panel PCs in a portrait format allows for a complete virtual keyboard to be shown in the lower part of the screen, therefore removing an actual keyboard from the unit resulting in space and cost savings.



While both newly introduced Panel PCs offer the forementioned features, they also serve dedicated roles depending on the customer requirements. The feature-sets are related to their performance, size of the displays, and interfaces provided. The Kontron Panel PC Micro Client 3 family, based on the Intel® Atom™ processor D2550 with two 1.86 GHz cores and up to 4GBs of DDR3 memory, covers the mid-range performance class and is fitted with all the standard interfaces, including support for wireless LAN communication. It is equipped with a 15.6" display, with 10" and 17" displays scheduled for future release. The Kontron OmniClient can be scaled from 15.6" to 22" and provides a broader range of interfaces, as well as, considerably more multicore performance based on the second generation Intel® Core™ i5/i7 processors, which have up to four 2.7 GHz cores and as much as 16 GBs of DDR3 memory.



The feature sets in detail

Both lines of Panel PCs have a projected capacitive touch widescreen made of glass and a range of interfaces matched to industrial needs. The Kontron Micro Client 3 features 2x Gigabit Ethernet, 2x USB 3.0 and 2x USB 2.0, 1x RS232, a graphical output (DVI, DP) for a secondary display and several further options, e.g. CAN, WiFi and RFID. The Kontron OmniClient comes standard with a larger feature set which includes: 3x Gigabit Ethernet, 2x Display Port, DVI-I and 6x USB 2.0. Optionally, the OmniClient can be extended to include: eighteen GPIOs, as well as two serial ports that can be configured as RS232/485/422 or CAN Bus. Further options include WiFi, WiFi with Bluetooth® and  RFID. For application-specific expansions the Kontron Micro Client 3 offers a single mini PCIe socket while the Kontron OmniClient features two mini PCIe slots and one PCIe x16 slot. Data storage media may be connected using a SATA connector suitable for 2.5" media. The Kontron OmniClient also integrates up to two 3.5 SATA hard drives. Both the Kontron Micro Client 3 and OmniClient lines additionally support rugged and small-sized flash memory devices by way of a mSATA connector. Besides being fitted with a projected capacitive touch widescreen made of glass, the Kontron Micro Client 3 is also being produced in a 4:3 format with resistive touch technology for display sizes 10.4" to 17". To ensure high-reliability and freedom from maintenance, Kontron employs only high-quality components, such as gold capacitors used as BIOS-level voltage buffers and LED backlighting with a service life of at least 50,000 hours. Each front panel has an IP65 protection rating against dust and humidity.



Pre-production models of Kontron's CE and UL certified Panel PCs will be available as of Q1/2013. Series production is due to begin as of Q2/2013. Windows XP, Windows 7, and embedded Linux operating systems are all supported. Window 8 is available on the Kontron OmniClient.



About Kontron

Kontron is a global leader in embedded computing technology. With more than 40% of its employees in research and development, Kontron creates many of the standards that drive the world's embedded computing platforms. Kontron's product longevity, local engineering and support, and value-added services, helps create a sustainable and viable embedded solution for OEMs and system integrators. Kontron works closely with its customers on their embedded application-ready platforms and custom solutions, enabling them to focus on their core competencies. The result is an accelerated time-to-market, reduced total-cost-of-ownership and an improved overall application with leading-edge, highly-reliable embedded technology.



Kontron is listed on the German TecDAX stock exchange under the symbol "KBC". For more information, please visit: http://www.kontron.com/ 



Media Contacts



EMEA

Norbert Hauser

Kontron

Tel: +49 (8341)  803-0

norbert.hauser@kontron.com



Americas

Richard Pugnier

Kontron

Tel:+1 (858) 623-3006

richard.pugnier@us.kontron.com



All rights reserved. Kontron is a trademark or registered trademark of Kontron AG. Intel® Core™ and Intel® Atom™ are trademarks of Intel® Corporation in the US and other countries. All other brand or product names are trademarks or registered trademarks or copyrights by their respective owners and are recognized. All data is for information purposes only and not guaranteed for legal purposes. Subject to change without notice. Information in this press release has been carefully checked and is believed to be accurate; however, no responsibility is assumed for inaccuracies.

More from Electrical Equipment & Systems