Wideband Noise Reduction SoC enhances voice capture devices.
Press Release Summary: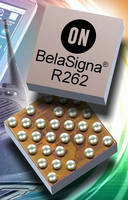 Without requiring special tuning, drop-in BelaSigna® R262 provides wideband single- or dual-microphone noise reduction in range of voice capture devices and acoustic environments. SoC manages stationary and non-stationary background and mechanical noise, resulting in improved voice clarity and intelligibility. Along with 8 kHz bandwidth wideband voice capture for VoIP communication, SoC offers de-reverberation capability and 360° voice pick-up.
---
Original Press Release:

ON Semiconductor Introduces BelaSigna® R262 Wideband Advanced Noise Reduction System-on-Chip for Smarter Voice Capture Devices



Drop-in solution improves voice clarity in a wide variety of acoustic environments without the need for special tuning



PHOENIX, Ariz. – ON Semiconductor (Nasdaq: ONNN) a premier supplier of high performance silicon solutions for energy efficient electronics, has introduced BelaSigna R262, a new system-on-chip (SoC) solution that provides wideband single- or dual-microphone noise reduction in a diverse range of voice capture devices such as mobile phones, VoIP applications including webcams and tablet computers, and two-way radios.



BelaSigna R262 offers a complete hardware and software solution with built-in voice capture and noise reduction technology that is highly effective in managing stationary and non-stationary background and mechanical noise. This results in improved voice clarity and intelligibility, especially in demanding noisy environments. With full 8 kilohertz (kHz) bandwidth wideband voice capture for VoIP communication, de-reverberation capability and 360-degree voice pick-up, BelaSigna R262 is ideal for conference, handset and arm's length applications.



BelaSigna R262 Advantages

• Easy to integrate: Special tuning, calibration or external components are not required

• Versatile voice capture: Consistently captures voice regardless of acoustic environment or the orientation of the handheld device while in use

• Design flexibility: Industrial design is unconstrained with greater freedom of choice on microphone model and placement



BelaSigna R262 integrates a digital signal processor (DSP), voltage regulators, phase-locked loop (PLL), level translator and memory all within a small footprint WLCSP package of less than 6 square millimeters (mm)2, requiring less board space than significantly larger competing solutions that often require additional external components. This simplifies and accelerates the design process and helps engineers meet challenging design size-reduction objectives.



"BelaSigna R262 is a unique, drop-in solution for communication devices that pose the most complex voice management design challenges," said Michel De Mey, senior director portable audio products at ON Semiconductor. "With ever increasing customer expectations regarding voice clarity and noise management – particularly in the rapidly-expanding VoIP market – it is important that designers have access to technology like ON Semiconductor's BelaSigna R262 to support them in offering compelling products that do not place restrictions on how and where clear and intelligible communications can take place."



Pricing

BelaSigna R262 is offered in Pb-free, RoHS-compliant WLCSP-30 and WLCSP-26 packages and priced at $2.00 per unit in 10,000 unit quantities.



For more information, please visit www.onsemi.com.

Visit ON Semiconductor at electronica 2012, 13-16 November, Hall A5, Stand 225



About ON Semiconductor

ON Semiconductor (Nasdaq: ONNN) is a premier supplier of high performance silicon solutions for energy efficient electronics. The company's broad portfolio of power and signal management, logic, discrete and custom devices helps customers efficiently solve their design challenges in automotive, communications, computing, consumer, industrial, LED lighting, medical, military/aerospace and power applications. ON Semiconductor operates a world-class, value-added supply chain and a network of manufacturing facilities, sales offices and design centers in key markets throughout North America, Europe, and the Asia Pacific regions. For more information, visit www.onsemi.com.



ON Semiconductor and the ON Semiconductor logo are registered trademarks of Semiconductor Components Industries, LLC. All other brand and product names appearing in this document are registered trademarks or trademarks of their respective holders. Although the company references its Web site in this news release, such information on the Web site is not to be incorporated herein.



Contacts



Beth Johnston                                  

Media Relations                             

ON Semiconductor                        

(208) 237-6838                                                         

Beth.johnston@onsemi.com             



Ken Rizvi

Treasurer and Vice President (MA, Real Estate & Investor Relations)

ON Semiconductor

(602) 244-3437

ken.rizvi@onsemi.com



Issued by:

Simon Krelle, Pinnacle Marketing Communications Ltd

Tel: (339) 368 6122

Email: s.krelle@pinnaclemarcom.com

Web: www.pinnacle-marketing.com

More from Mechanical Components and Assemblies