Wideband Microwave Amplifier features 62 dB isolation.
Press Release Summary: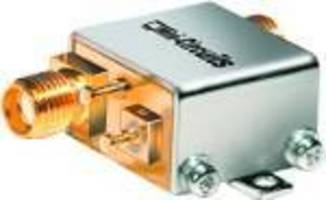 Measuring 0.75 x 0.74 x 0.46 in., 5-20 GHz Model ZX60-24+ features internal compensating circuitry for high gain, flat response of 24 dB ±1.3 dB typical. Two-stage unit, designed for 50 W SMA coax systems, comes in gold-plated package with nickel-plated brass cover and unibody construction. Operating on 5 Vdc, coaxial amplifier is suited for applications ranging from microwave radio and radar to military communications, satellite communications, and countermeasures.
---
Original Press Release:

Wideband Microwave Amplifier



Mini-Circuits is a global leader in the design, manufacturing, and distribution of RF, IF, and microwave components covering the DC to 20GHz band, for commercial, industrial, space, and military, including: WiMax, CATV, Cellular Wireless, RFID, Medical Equipment, Test Equipment, Receivers, Transmitters and Satellite applications. Rapid response, innovative design, demanding quality standards, fast turnaround, value pricing, on-time delivery, and top-notch customer service have helped make Mini-Circuits an industry leader. With 25 different product lines representing thousands of off-the-shelf and custom models. Mini-Circuits is now offering the high gain, excellent isolation model ZX coaxial amplifier series.

Introducing an extra wideband, 5-20 GHz amplifier with high gain, flat response, 24 dB ±1.3 dB typ. This series has excellent Isolation, 62 dB typ and with unconditionally stable performance. This amplifier series is an ideal choice for many engineering applications.

The ZX60-24+ two-stage amplifier provides high gain in a very small package, only 0.75" x 0.74" x 0.46" high. Internal compensating circuitry provides a consistent, flat response over the extra wide bandwidth. Designed for 50 W SMA coax systems, the gold-plated package uses convenient 5V DC power, and has a nickel-plated brass cover and unibody construction for extra durability. Wider frequency range supports a wider array of applications, from microwave radio and radar to military communications, satellite communications, and countermeasures. No risk of damage to other components from impedance mismatch or internal oscillation.

Manufacturing of RF, IF and microwave signal processing components has come to be recognized as the first and most reliable source for electronic design engineers.

Since 1969 Mini-Circuits has provided signal processing solutions. Full range of frequency mixers, power splitters / combiners from 2 way to 48 way, fixed & digital step attenuators, low insertion loss directional couplers, low pass, high pass and bandpass filters lead the way of our extensive product line.

Engineers search by product line or search with our unique model search engine YONI 2. YONI 2 searches millions of data points from thousands of models to find a solution to meet your specific request. Complete data on all models enables a quick evaluation of product performance. Featuring a commitment to innovation our products are hi-rel and ultra-rel with a 5 year guarantee. A partner program is offered to lower customers cost. IT (innovative technology) products offer smaller size, and better performace for a lower cost. Our Blue Cell product lines offer low temperature co-fired ceramic models. Surface mount products are available in Tape 'n Reel. Quality assurance certified to ISO 9001, certified aerospace standard AS9100, environmental regulations ISO 14001 certified and products are RoHS compliant.

International manufacturing and sales offices provide world wide distribution, contact us for world wide tech support call 718-934-4500, 800-654-7949 or customer service Fax; 718-934-7092, email us at sales@minicircuits or visit our website www.minicircuits.com for all our contact and product information

More from Laboratory and Research Supplies and Equipment