Wideband ADC consumes 395 mW of power.
Press Release Summary: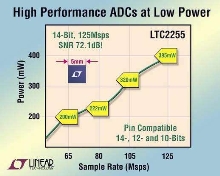 Housed in 32-pin, 5 x 5 mm QFN package with integrated bypass capacitors, 14-bit LTC2255 Analog-to-Digital Converter provides 125 Msps sampling rate and ac performance of 72.1 dB SNR/85 dB SFDR at 70 MHz input. Operating from 3 V supply, it is available in commercial and industrial temperature grades. ADC is suited for battery powered, high performance, test and instrumentation equipment such as satellite receivers, wireless base stations, and portable electronics.
---
Original Press Release:

125 Msps 14-bit Wideband ADC has Low Power Consumption


Low Power ADC Improves Base Station Power Efficiency & Battery Life for Portable Electronics

Milpitas, CA - June 15, 2005 - Linear Technology Corporation announces the LTC2255, a 125Msps, 14-bit Analog to Digital Converter (ADC) that features excellent AC performance and extremely low power. Outperforming its nearest 14-bit competitor, the LTC2255 consumes 49% less power at just 395mW, significantly lowering the power budget and thermal considerations required for multiple channel devices. This provides a significant advantage in applications where efficiency and cooling is critical, such as satellite receivers, wireless base stations and portable electronics. As part of an extensive pin-compatible family, the LTC2255 comes in a conveniently small 5mm x 5mm QFN package with integrated bypass capacitors, requiring only a small number of tiny external components. The LTC2255 eliminates the need for large and costly decoupling capacitors, affording the smallest solution size available, which eases PCB space constraints and allows for more compact, cost effective designs. With its small dimensions, low power and reduced external component requirement, designers can easily fit four LTC2255 ADCs where just one competing solution would fit.

The LTC2255 is well placed to meet the needs of 3G and emerging 4G technologies, WiMAX and other wideband wireless applications where high performance ADCs play a key role in handling the demands of increasing network traffic. For wireless base station system designers, reduced power consumption is an important design consideration in helping to lower overall system operation costs. In addition, the combination of high sampling rate, low current and 14-bit resolution make it ideally suited to battery powered, high performance test and instrumentation equipment.

The LTC2255 offers exceptional low-level input signal performance due to its high linearity, and it is designed with good margin relative to the sample rate for reliable performance over a wide temperature range. At 125Msps sampling rate, it achieves excellent AC performance with 72.1dB SNR and 85dB SFDR at 70MHz.

The LTC2255 releases alongside 5 new family members, expanding the existing pin compatible family of low power, high speed ADCs to higher sampling rates of 105Msps and 125Msps in resolutions of 10, 12 and 14 bits. Each device is available both commercial and industrial temperature grades.

The entire LTC2255 product family is provided in the following table.

Summary of Features: LTC2255 Family
Sample Rate: 125Msps/105Msps
10-bit, 12-bit, 14-Bit resolution
72.1dB SNR at 70MHz Input
85dB SFDR at 70MHz Input
640MHz Full Power BW S/H
Tiny Board Footprint
Single 3V Supply (2.85V to 3.4V)
Low Power Dissipation: 395mW/320mW
Flexible Input: 1Vp-p to 2Vp-p Range
No Missing Codes
INL ±1LSB
Optional Clock Duty Cycle Stabilizer
Shutdown and Nap modes
32-Pin, 5mm x 5mm QFN Package
Pin Compatible Family

Company Background
Linear Technology Corporation was founded in 1981 as a manufacturer of high performance linear integrated circuits. Linear Technology products include high performance amplifiers, comparators, voltage references, monolithic filters, linear regulators, DC-DC converters, battery chargers, data converters, communications interface circuits, RF signal conditioning circuits, and many other analog functions. Applications for Linear Technology's high performance circuits include telecommunications, cellular telephones, networking products such as optical switches, notebook and desktop computers, computer peripherals, video/multimedia, industrial instrumentation, security monitoring devices, high-end consumer products such as digital cameras and MP3 players, complex medical devices, automotive electronics, factory automation, process control, and military and space systems.

LT and LTC are registered trademarks of Linear Technology Corp.

Worldwide Contacts
North America and General
Information
John Hamburger
Tel: (408) 432-1900 ext. 2419
jhamburger@linear.com

Doug Dickinson
Tel: (408) 432 1900 ext. 2233
ddickinson@linear.com

More from Laboratory and Research Supplies and Equipment