Wi-Fi Modules offer connectivity for Renesas MCU-based systems.
Press Release Summary: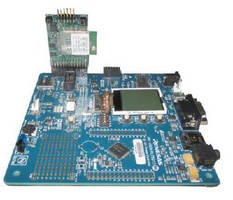 With GS1011M and GS1500M Wi-Fi Modules, users can add Wi-Fi to embedded systems that use Renesas 8/16/32-bit microcontrollers. WAB-GW-1011MIP adapter board, based on GS1011MIP module, offers ultra-low power 802.11b solution, while WAB-GW-1500M, based on GS1500M module, provides low power 802.11b/g/n solution. Pre-loaded with serial to Wi-Fi firmware, Wi-Fi modules include security, WPS, and provisioning features as well as networking stack, embedded HTTP server, and limited AP capability.
---
Original Press Release:

GainSpan Provides Low Power Wi-Fi Connectivity for Embedded Systems Based on Renesas MCUs



Designers using popular Renesas 8-32-bit microcontrollers can speed product development for connected devices

SAN JOSE, Calif., -- GainSpan(®) Corporation today announced wireless connectivity solutions that make it quick and easy to add ultra-low power Wi-Fi to embedded systems that use any Renesas 8/16/32-bit microcontrollers. The solutions ease the design of new devices and upgrading of existing products, enabling fast development of connected devices to support the growing demand for Smartphone monitored and controlled devices, and "Internet of Things" applications.

Now, Renesas Electronics' customers can add Wi-Fi connectivity using GainSpan's GS1011M and GS1500M low power Wi-Fi modules and develop their solutions with the Wi-Fi Adapter Boards, evaluation boards and drivers from GainSpan. All the GainSpan solutions work seamlessly with Renesas MCUs, which are among the most popular on the market for embedded system applications.

Embedded Wi-Fi for Renesas MCUs

Among the new GainSpan solutions are Wi-Fi Adapter Boards that plug into the Renesas development boards through the Application Header Interface or PMOD connectors that are used, for example, on the RL78 and RX62/ RX63 Renesas Demo kits (RDK). For other Renesas development boards, GainSpan offers evaluation boards that interface through an RS-232 connector.

The Wi-Fi Adapter Boards come in two configurations: the WAB-GW-1011MIP Wi-Fi is an ultra-low power 802.11b solution based on the GS1011MIP module; The GS1011 chip has a standby current as low as 1.2 microampere and a wake up latency from standby of less than 10ms, ideal for battery operated applications. The WAB-GW-1500M is a low power 802.11b/g/n solution and includes the GS1500M module. The boards provide both UART and SPI interfaces, making it possible to connect to any Renesas microcontroller using simple AT commands Additionally, the boards have built-in flash for reliable over the air firmware upgrade, factory restore configuration and data storage such as for web pages.

The GS1011MIP and GS1500M modules mounted on the Wi-Fi Adapter Boards offer customers easy system integration and minimal use of host resources. The modules are pre-loaded with serial to Wi-Fi firmware with complete Wi-Fi functionality including security, WPS and provisioning features running on the module as well as the networking stack, an embedded HTTP server with network configuration pages, and limited AP capability for ease of provisioning. The host microcontroller is hence offloaded from Wi-Fi and networking functionalities and could be dedicated to customer applications. A small driver of only a few Kbytes is required to run on the host, making the solution suitable for even the most processing and memory constrained MCU's.

Drivers are currently available for most Renesas microcontrollers including the RL78, RX62, RX63, V850, SuperH, 78K0 and 78K0R and due to their small footprint may be used with the IAR Embedded Workbench Kickstart Edition. Drivers for other Renesas MCU's are also in development.

"We are moving toward a 'smart' society where connected devices will allow us to interact with our environments more safely, efficiently and conveniently," said Rob Dautel, Sr. Manager of Ecosystems at Renesas Electronics America. "As a Gold Partner in the Renesas Alliance Program, GainSpan has created Wi-Fi Adapter Boards, demos, and driver software for a range of Renesas MCUs. Their solutions are an important contribution toward enabling a connected world in which we use less power and fewer resources while improving overall quality of life."

"GainSpan pioneered ultra-low power Wi-Fi technology and has established itself as a preferred provider of Wi-Fi connectivity particularly for applications such as sensor based and battery-operated devices -- markets in which Renesas Electronics microcontrollers are top sellers," said Bernard Aboussouan, vice president of marketing at GainSpan. "We have a lot of common customers and believe our partnership is a 'win-win' for both companies, but most importantly to our customers who will benefit from readily available and integrated solutions, tools and support, simplifying their development and accelerating their time to market."

Key applications for the GainSpan connectivity solutions for Renesas MCU-based embedded systems include personal healthcare and fitness devices, thermostats, HVAC equipment, home appliances, security systems, home and building automation systems, consumer electronics, and industrial sensors among many others.

Availability

Customers can purchase the Wi-Fi Adapter Boards, evaluation boards and drivers from GainSpan's online store, GainSpan's distributors, or through Digi-Key.

About GainSpan Corporation

GainSpan is the leading semiconductor solutions company in low power Wi-Fi and Wi-Fi connectivity for the Internet of Things. With easy to use system-on-chip (SoC), modules and software, GainSpan lets customers leverage the large installed base of Wi-Fi access points and smartphones to create new connected embedded products for healthcare, smart energy and control and monitoring in industrial, commercial and residential markets. For more information, visit: www.gainspan.com.


More from Software