Wi-Fi Modules come with secure configuration software.
Press Release Summary: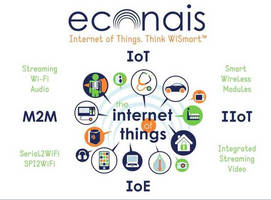 Econais Wi-Fi Modules (EC19D and EC19W), Development Kits, and Reference Designs are available with ProbMe™ configuration software feature, which facilitates and accelerates secure addition of new devices to network. After the user unpacks and turns on their new device, it listens until activated by user. To activate devices, user sends out configuration code. Multiple devices can be securely configured simultaneously, and numerous commands can be implemented and customized.
---
Original Press Release:

Econais Launches ProbMe(TM) WiSmart(TM) Secure Configuration Software



Econais makes it possible to securely configure an entire network with a single click



SAN JOSE, California -- Econais Inc, the world's leading wireless Wi-Fi module solution provider for the Internet of Things, today announced that the ProbMe(TM) secure configuration software feature is available and shipping with Econais Wi-Fi Modules, Development Kits and Reference Designs. ProbMe solves one of the biggest challenges for consumer and commercial networking - how does an end user securely set up and configure new devices on their network as quickly and easily as possible?  Think WiSmart(TM).



Econais ProbMe provides an easy, fast and secure way to add new devices to a network.  With ProbMe, after the user unpacks and turns on their new device, the device "quietly listens" until the user activates it - no one else knows it is there.  This helps prevent hackers from identifying and attacking new and un-configured devices.  To activate these new Wi-Fi devices, the user simply sends out a configuration code from their computer, tablet, laptop or smart phone. The configuration code is broadcast to all the new devices, which, after "hearing" the code, automatically configure themselves to the network. Voila!  The devices are immediately connected and configured.  What makes ProbMe even more valuable is its ability to activate any number of devices at one time. Hundreds of devices could be located throughout a home or office and instead of having to activate each one separately, they all can be activated and configured in just one simple step.  Talk about saving a LOT of time, hassle, and risk.  Think WiSmart.



According to Alex Manos, CEO of Econais, "Consumers and installers say that ease of securely configuring new devices for consumer and commercial networks is a critical issue in adoption of IoT devices.  ProbMe provides an embedded capability that enables a single step to securely configure 1, 10, 100, or even 1,000 devices in mere seconds."



Multiple devices can be securely configured simultaneously and numerous commands can be implemented and customized – including customization of security options. ProbMe currently supports commands such as "Connect to Wi-Fi network in client mode", "Start as Wi-Fi access point" and "Connect to WPS Wi-Fi network by emulating Push Button or PIN".



The new ProbMe software is included with the EC19D and EC19W Econais Wi-Fi Modules, Development Kits and Reference Designs, and are available through major industry distributors such as Digi-Key, http://www.digikey.com/product-detail/en/EC19D01DK/1483-1007-ND/4733089.   For additional information regarding ProbMe, please visit the Econais weblink at www.econais.com/probme.



About Econais Inc:



Econais is an embedded module manufacturer and solutions company building ultra-low power connectivity solutions to address the expanding Internet of Things (IoT) and Machine to Machine (M2M) markets. WiSmart modules integrate 32bit MCU, Wi-Fi, and cloud connectivity with rich and comprehensive libraries of software and vertical applications.  Econais' easy-to-use wireless modules and integrated software, packed with advanced features, enable customers to leverage the globally installed base of Wi-Fi access points and smartphones to quickly and confidently create connected smart products for audio, video, smart home, wearables, healthcare, smart energy, consumer, and control and monitoring in industrial, commercial and residential markets. http://www.econais.com



Company Contact

Brent Ward

Marketing

(919) 345-2336

bward@econais.com



RELATED LINKS

http://www.econais.com

Twitter: http://www.twitter.com/econais

Facebook: http://www.facebook.com/econais

LinkedIn: http://www.linkedin.com/company/econais

Google Plus: https://plus.google.com/+Econais

YouTube: http://www.youtube.com/user/eConaisWiFi

Pinterest: http://www.pinterest.com/econais



Mark Shapiro

SRS Tech PR - "Media Relations for the Connected World"

mshapiro@srs-techpr.com

+ 1 619 249 7742

Twitter - @SRSTechPR

Skype - mark.shapiro5

Google Plus - https://plus.google.com/+Srs-techpr

More from Material Handling & Storage