Wi-Fi Module adds LAN connectivity.
Press Release Summary: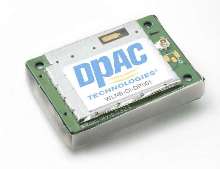 Airborne(TM) fully integrated Wi-Fi module includes radio, base-band processor, application processor, and software to provide LAN and Internet connectivity to non-consumer electronic applications. Measuring 38 x 27 x 12 mm, module is easily embedded into existing designs and is interoperable with 802.11b access points. Equipment with embedded Airborne module can be monitored and controlled by handheld device, PC in central location, or over Internet.
---
Original Press Release:

DPAC Technologies Introduces the First Web-Enabled Wi-Fi Module Drop-In Solution


New 802.11b Module Provides the Ideal Solution to Quickly Add LAN Connectivity to Industrial, Scientific, Medical, and Automotive Applications

Garden Grove, CA - September 2, 2003 - Capitalizing on the company's extensive expertise in high volume stacking technology and system-level board design, DPAC Technologies® (DPAC) (NASDAQ: DPAC) today introduced the industry's first line of fully integrated Wi-Fi modules designed specifically for industrial, scientific, medical and automotive applications. The new line of modules called Airborne(TM) were developed to be an easy drop-in solution that can cost-effectively and quickly provide local area network (LAN) and Internet connectivity to a wide range of non-consumer electronic applications. Fully integrated, the new Airborne(TM) modules include a radio, base-band processor, an application processor and software for a complete web-enabled Wi-Fi solution. Since there's no need to develop the software or the RF/Communications expertise in-house, OEM's can realize reduced development costs and quick time-to-market.

The 38mm x 27mm x 12mm module makes Airborne easy to embed into existing designs. The module is interoperable with industry standard 802.11b access points that provide a low-cost infrastructure for connection to a LAN or the Internet. The built-in TCP/IP stack, RTOS and application software provide embedded devices with instant LAN and Internet connectivity without special programming of the module - only simple
configuration is required which is done through DPAC's custom HTML interface. An integrated web server makes it easy to remotely monitor and control any device using a standard browser. Additionally, the OEM can create custom web pages that deliver content from their application.

"By utilizing our Airborne module, customers who sell up to 50,000 units of their product in a year can substantially reduce their development time, cost and risks", said Brett Trowbridge, vice president for DPAC. "Our customers can cut their development time from nine months to eight weeks and translate this benefit into bottom line profits."

Allen Nogee, principal analyst at InStat/MDR said, "A highly integrated module such as Airborne would definitely save time and costs for industrial and medical OEM's that are looking to add wireless capability to their products. The inclusion of the RTOS, application software, web server and TCP/IP stack are key differentiators when compared to other available 802.11b modules."

Equipment with an embedded Airborne module can be monitored and
controlled by a handheld device, by a PC in a central location or over the Internet. This eliminates cabling and allows the equipment to be mobile. Additionally, email or text messaging can be used to advise appropriate personnel of urgent conditions or status of the equipment.

Since the Airborne module comes with a highly integrated software solution, it can be designed into a current or new board design in six to eight weeks. All that is required to incorporate the module is to:
o Select a power supply or power source for the module (3.3 V)
o Select the antenna and it's location
o Select and configure a simple serial interface with the module

Once this is complete, the product will have LAN and Internet connectivity via widely available industry standard Wi-Fi access points.

To achieve the same design benefits of an Airborne module, a developer would have to incorporate a basic 802.11b radio module, (USB, PCMCIA or other) design the application processor and build all of the software required to accomplish the LAN and Internet connectivity. This would require significant resources and would take six to nine months to complete, plus it involves substantial development risk. A designer could also build the radio from the base components, but this approach requires substantial RF expertise, additional resources and would take nine to 15 months to complete.

For data acquisition and control applications, fully configurable digital and analog I/O ports are provided, along with industry standard high-speed Serial, I2C and SPI host interfaces. Built in power management configurations extend battery life for mobile or handheld applications.

DPAC will begin volume production of commercial and industrial temp versions in 4Q'03 with pricing starting below $80 for quantities of 10,000 units. Samples are available now, with evaluation kits available end of 3Q'03. DPAC will also provide a full set of development tools.

About DPAC Technologies
Located in Garden Grove, California, DPAC Technologies provides a diverse portfolio of patented electronic-component-based products including component packaging technology for high-density, space-saving memory and wireless applications, and solutions for digital image enhancement. DPAC's products are used in electronic circuits found in network servers, comput:er
storage devices, weapon guidance systems, medical instrumentation, communication devices, refrigeration controls, automotive diagnostic equipment and other advanced equipment. The Company also provides value-added manufacturing of prototype designs and medium volume production runs of assembled circuit boards. The Company's web site address is www.dpactech.com

More from Materials