Wi-Fi Enabled Thermocouple Datalogger enables remote monitoring.
Press Release Summary: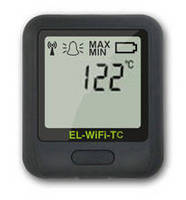 Powered by rechargeable internal lithium polymer battery, Thermocouple WiFi Temperature Data Logger features integrated LCD and can stream data wirelessly over any Wi-Fi network. Supplied K-type thermocouple probe has 32 to 752°F measurement range and ±1.5°C accuracy; users can choose their own J-, K-, N-, or T-type thermocouples to log data. If sensor loses connectivity with network, unit continues to log readings until it can communicate again with PC application or cloud service.
---
Original Press Release:

New WiFi LCD Thermocouple Data Logger for Remote Monitoring



Keep Tabs on Your Products from a PC with CAS DataLoggers



CHESTERLAND OH—CAS DataLoggers has partnered with Lascar to introduce the new Thermocouple WiFi Temperature Data Logger. Now you can remotely monitor your products and environments using the loggers' integrated display and from a remote PC via WiFi capability. These new loggers are ideal for temperature monitoring applications in a range of industries including building and site monitoring, server room monitoring, pharmaceutical storage, HVAC, agriculture, and environmental studies. You can also use our new WiFi sensors to protect your products in the food and beverage industry at every step of the cold chain from manufacturing and storage to distribution and retail. With a low price and excellent value for the money, these new loggers also include FREE control software to help you breeze through configuration and set high and low values to alarm your products and keep tabs on remote sites.



WiFi Communication

Unlike many WiFi sensors, these data loggers have an LCD so you can do a quick temperature check from the sensor itself or on a remote PC using the included software. The thermocouple datalogger measures the temperature of the external probe's environment, which isolates the logger from the temperature you're measuring--great in applications where the temperature might be too hot or cold for the actual unit itself. The supplied K-type thermocouple probe has a measurement range of 0°C (32°F) to 400°C (752°F), and you can choose your own J, K, N or T-type thermocouples to log data. The accuracy of the supplied K type probe is ±1.5°C.



The logger streams all data wirelessly over any WiFi network where you can view it on a PC using the software available for download. During configuration, the sensor will search for an existing wireless network while physically connected to the PC. It can then be placed anywhere within range of the network. If the sensor temporarily loses connectivity with the network, it will keep logging readings until it can communicate again with the PC application or cloud service (max 30 days at a 10 second sample interval). Logged data is retained if the battery goes flat. Our sensors have a unique range detection method built into the LCD display so you can see if you have moved the unit out of range of the router. You can easily increase the wireless range by using WiFi extenders.



Once the sensor is setup and configured to your WiFi network, you can leave it within range of your router so that you can monitor the data from your PC. This saves you the trouble of having to travel to the sensor and retrieve the data yourself. Our range of WiFi sensors are 802.11b compliant and will connect to any WiFi network in your home, garden or business. Compared against other products that are only wireless and can only communicate with a base unit, these WiFi data loggers communicate with any WiFi router available worldwide. All other sensors have a limited battery life, while these loggers have a rechargeable internal lithium polymer battery lasting over many years.



During initial configuration the sensor will search for an existing wireless network while physically connected to the PC via USB cable. Once connected you can use the software to name the sensor, log temperatures in Celcius or Fahrenheit, select sample and transmit rates and set high and low alarms. Alarm breaches are instantly transmitted to the PC with both visible and audible cues. The unit also protects you from WiFi outage by storing data onboard (up to half a million readings) if the WiFi network is disrupted.



User-Friendly WiFi Software

Our new WiFi range of data loggers include FREE setup and configuration software that's compatible with 32-bit and 64-bit versions of Windows XP, Vista and 7. The hassle-free interface uses a wizard format to guide you through the setup of the sensor and subsequent download of collected data.



WiFi LCD Data Logging Series

We have several WiFi models logging temperature and humidity and also offer high-accuracy versions with external and internal probes. Our LCD WiFi range includes sensors for temperature data logging, temperature and humidity data logging, and temperature probe data logging.



For more information on our NEW WiFi Temperature Data Loggers with LCD, our humidity data loggers in the same series, or to find the ideal solution for your application-specific needs, contact a CAS Data Logger Applications Specialist at (800) 956-4437 or visit the website at www.DataLoggerInc.com.



Contact Information:

CAS DataLoggers, Inc.

12628 Chillicothe Road

Chesterland, Ohio 44026

(440) 729-2570

(800) 956-4437

sales@dataloggerinc.com

www.dataloggerinc.com

More from Agricultural & Farming Products