Why Modern Linear? Rugged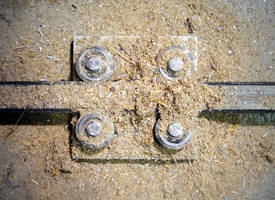 Rugged. In debris laden environments, the durability of moving parts is paramount. Parts need to continually run without suffering from contamination. Guide roller technology is well suited to dealing with these concerns.
As a fully contained unit, the guide roller is additionally protected from contamination with a seal or shield. Ball bushings and ball rails rely on the shaft functioning as the inner race of the bearing, which increases the susceptibility of contamination failure. In a wood processing plant, for example, fine debris and wood dust will build up and adhere to areas with external lubrication. Our guide rollers can run on track with no lubrication necessary, while still maintaining durability and long working life.
Additionally, the inherent wiping action of the roller running on track means that debris are naturally pushed away from the assembly.
Our Standard Guide Roller is available in 52100 bearing steel as well as 440C stainless steel (SS) for extra corrosion resistance. With the inclusion of either an outer seal or shield, the roller becomes an enclosed unit to prevent the potential for contamination. Five sizes are available ranging from size 1 with 134 lbs of radial load capacity, up to size 4XXL with 1,710 lbs of radial load capacity.
For more information please visit our website at www.modernlinear.com
More from Controls & Controllers