Why Injection Molding Defense Related Products Requires Specific Registrations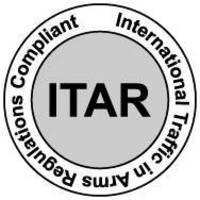 The U.S. Government requires that all manufacturers, exporters, and brokers of defense related products, including those made by injection molding, be registered with the Department of State under the International Traffic in Arms Regulations (ITAR). ITAR-controlled items, also known as United States Munitions List (USML) items, are defined as defense articles meant for military application that do not have a predominant or performance equivalent civil application, or any item that has significant military or intelligence purposes.

The Purpose of ITAR

The aim of ITAR is to inform the U.S. Government of companies and persons involved in the handling of ITAR-controlled items and prevent the unauthorized transfer of information regulated under ITAR, specifically to non-US entities. ITAR certification is required for any entity involved in the manufacture of the following items:

o Firearms and ammunition

o Parts, systems, and equipment for aircraft, spacecraft, or any other military vehicle

o All military grade electronics

o Any other item that has classified status or is ruled to be ITAR-controlled.

ITAR Security Benefits

Entities can be prosecuted and fined for allowing the access of ITAR-controlled items or information to non-US entities without authorization, whether the access was theoretical or actual. For this reason, injection molding companies that are ITAR-certified engage in the following security measures:

o All employees must be able to work in the US legally.

o All ITAR regulated products must be controlled, identified, and secured.

o Technical information from blueprints to emails must be secured.

o Facilities must be secured and visitors escorted at all times.

Any breaches of security must be promptly reported to the Department of State. Noncompliance is prosecuted under strict liability, meaning that even purchasers of a company or successors to an individual that allowed a regulatory breach can be held responsible. In order to prevent such breaches, companies must have effective compliance programs.

The Joint Certification Program

Once a company has achieved ITAR certification, they can acquire a Joint Certification Program (JCP) number, which allows the company to cooperate with Canadian entities on the development of security procedures and technology control in the joint defense ofNorth America. A company with a JCP number may work with any entity within the Joint Certification Program.

Benefits of ITAR/JCP-Certified Business

There are many benefits to doing business with an ITAR-certified injection molding company. ITAR-certified companies are competitive on the global market, may freely work with other companies in the military, space, and engineering supply chains, and promote advanced security measures over all facilities and staff. Companies that are also JCP-certified can work on a variety of projects within the Joint Certification Program.

Crescent Industries

Crescent Industries is a start-to-finish injection molding supplier, fulfilling customers' needs with superior engineering from design and development through manufacturing. We provide a wide range of high quality components, using a dedicated Enterprise Resource Planning (ERP) system to maximize efficiency. Crescent Industries has achieved and operates under the ISO 9001:2008, ISO 13485:2003, ITAR, and JCP certifications. For more information, please call 1-800-411-3844 or visit our website www.crescentind.com.

More from Fluid & Gas Flow Equipment