Why Carolina Knife & Manufacturing is Your Resource for Industrial Blades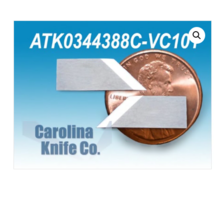 Tire and rubber, textile, film and foil, metal, or plastic — no matter what the cutting or conversion industry, having high-quality blades is essential to getting precise cuts and a superior finished product. Choosing cheap, low-quality blades will only cause issues. They will not last long, their cuts may not be as precise as what is demanded, and they can cause more delays than necessary when it comes to production. Therefore, those working in these industries must find a reliable machine knife supplier to ensure they are getting quality industrial blades derived from durable, caliber material.
Four Reasons Why Carolina Knife Is Your #1 Machine Knife Supplier
When in need of high-quality industrial blades, many people turn to Carolina Knife & Manufacturing, Inc. As one of the leading international industrial machine blades suppliers, specializing in steel and carbide knife manufacturing, Carolina Knife & Manufacturing has a wide selection of American-made industrial knives for a wide variety of applications. With unmatched service and expertise, our team of machine blade specialists can help you find the you need for your application.
In today's post, our knife specialists are going to share why Carolina Knife & Manufacturing is a cut above the rest when it comes to industrial blade suppliers.
1. Over Four Decades of Experience
With something as technical as industrial blades manufactured to exact the unique needs of your application, it is in your best interest to work with an experienced industrial blade manufactured. At Carolina Knife & Manufacturing, we have over 40+ years of experience and we have a thorough understanding of the unique needs and expectations of different conversion and processing industries. With our extensive knowledge, our team of knife specialists can help you find the perfect blade tailored for your application.
2. Blades For A Wide Variety of Industries
By supplying top-of-the-line machine blades, Carolina Knife & Manufacturing helps support various cutting and conversion industries. We leverage our vast product and industry knowledge to manufacture the highest-quality selection of circular blades and straight knives that are made specifically for popular equipment in primary conversion industries that include metal and plastic processing, film, foil, and paper conversion, tire and rubber conversion, and more!
3. Extensive Selection of Industrial Blade Types
At Carolina Knife & Manufacturing, Inc., we specialize in manufacturing all types of standard, and many of the non-standard, converting blades. Depending on your application and the material you are cutting, slitting, or converting, you will need a specific type of industrial blade. Whether you need circular knives, straight razor blades, or another type of industrial blade, our knife specialists can help you find the right one! Our selection of industrial blades include:
Carbide knives
Circular knives
Slitter blades
Straight blades
Hot cut knives
Mill knives
And so much more!
4. Manufactured To Exceed OEM Standards
It is important that when your OEM blades need replacing you get replacements that fit the standards and specifications set by the equipment manufacturer. Failing to do so can result in poor cutting quality, blade failure, and damage to both the product and conversion equipment. Instead, you'll want economical solutions to your machine knife needs without having to go back to your equipment manufacturer. Our selection of industrial blades are manufactured to not only meet, but often exceed, original equipment manufacturer standards; paying close attention to important features such as surface finish and concentricity. This ensures that you will get the same --- if not better --- quality cut intended by the OEM. Some of the OEM's we manufacture replacement blades for include Akron Standard, Fischer, Dusenbery, Tidland, Dusenbery, and Cameron.
Get the Industrial Blades You Need, When You Need Them
As you can see, there are many reasons why Carolina Knife & Manufacturing is one of the leading industrial machine blade suppliers. Whatever your needs, our team is committed to supporting your cutting and converting applications with the highest quality, American-made products delivered in a timely and professional manner. If you need help finding the right blade for your application or are interested in custom blade manufacturing or knife sharpening services, contact us today!