Whiteboard includes pre-printed horizontal gray lines.
Press Release Summary: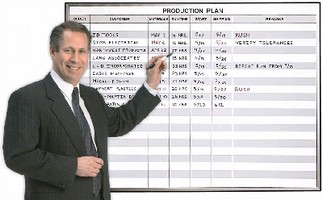 Available in 9 sizes and 37 models with varying heights of shaded bars, ShadeLine® Boards include removable line tape, press-on die-cut letters and dry erase pens, allowing user to customize display and track any aspect of job. Gentle-gray shaded lines facilitate up-close or distance reading and eliminate need for customers to create perfect horizontal lines. Colored magnets and cardholders customized by task or industry are available.
---
Original Press Release:
Do-It-Yourself Whiteboard System
Magnatag's® Shadeline® Whiteboard Features Pre-Printed Horizontal Gray Line Bars for Neater Writing and Easier Reading Gentle-Gray Shaded Lines Make Up-Close or Distance Reading Easier, and Eliminate the Need for Customers to Create Perfect Horizontal Lines Macedon, NY - April 17, 2007 - Magnatag makes reading a whiteboard easy, up close or from a distance, with its ShadeLine® whiteboard kit featuring permanent gentle-gray shaded line bars. "It's a challenge for some customers to create row after row of perfectly straight, perfectly spaced horizontal lines," says Wally A. Krapf, founder and president of Magnatag Visible Systems. "That's why we created the ShadeLine visual display board - to provide perfect horizontal line bars, just like pre-printed shaded lines on computer paper, for neater writing and easier reading." The ShadeLine board is available in nine different sizes and 37 models, with varying heights of shaded bars, to meet a wide range of customer needs. Magnatag's Alternating Bars and Rows U-Design-It(TM) Magnetic Dry-Erase whiteboard kits allow users to create their own unique visual ShadeLine display board and adapt it easily to any project. Tools included with the ShadeLine board are removable line tape, press-on die-cut letters and dry erase pens, allowing users to customize the display and track just about any aspect of any job. Also available are an assortment of colored magnets, cardholders and other components customized by task or industry, making it easy for both managers and employees to see the status quickly and easily on virtually any type of project. Additional Magnatag products for small and medium businesses include calendars, project planning boards and attendance monitor kits. Easy to read line-by-line and from a distance, the ShadeLine board is one of Magnatag's more popular systems, in use by supervisors and managers representing industries across the spectrum: o "We are a busy surgery center, the printed rows make the board easier to keep clean and maintain because we don't have tape lines going in two directions. We have changed the layout a few times, it was nice to be able to do it easily without having to buy new boards" - Surgical Nurse, Baltimore MD o "We like the flexibility of these boards. We use magnets and dry erase pens to create scoreboards for our lean manufacturing program. We have several of them and have re-purposed them a few times each, they clean up well and the grey horizontal bars make it easy to find information on the board." - Project Leader, Milwaukee, WI o "We have several of the boards in our surgery unit to display the daily schedule. The larger size and the grey rows make it much easier to read than our printouts and it is always up to date, you never know if you have the latest printout so the board is last word." - Hospital Operating Room Coordinator, Austin, TX The ShadeLine® U-Design-It(TM) Whiteboard system includes write on tools and charting supplies. The optional magnet set includes magnetic cardholders in five colors and two widths to fit the bar rows, card inserts perforated in letter-size sheets in 10 colors, Letter-Easy(TM) card insert lettering system with PC templates and printable clear insert overlay films, magnet status signals in 10 colors, write-on plastic laminated magnet 12" strips in five colors that can be scissor-cut to length, magnet marking pens, press-on die-cut adhesive letter and number sets, bold line tapes, magnetic month and date sets, and magnet storage box. Pricing starts at $279. For more information visit www.magnatag.com/shadeline. About Magnatag® Visible Systems Celebrating its 40th Anniversary, Magnatag Visible Systems is a leading manufacturer and direct provider of industrial-quality magnetic printed whiteboards and organizational tools for displaying information in the workplace. Magnatag has designed, patented, manufactured and directly furnished visible information display kits and products from its plant in Macedon, NY, to industry, business, government, institutions and organizations. With over 2,300 different task-specific kits, they enable managers across all industries to visibly organize, plan, schedule, track, update and communicate ongoing workplace activities 24/7 to everyone involved
More from Agricultural & Farming Products