White LED Light targets automotive sector.
Press Release Summary: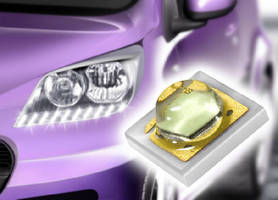 Based on UX:3 chip technology with silicon converter, Oslon LX produces 125 lm from 350 mA current at temperature of 25°C in chip. At 100°C, LED achieves luminous flux of 100 lm. Housed in 3 x 3 mm² package, LED has beam angle of 120° and typical CCT of 6,500°K, making it suitable for automotive daytime running lights and fog lights. Low-beam and high-beam applications are also possible using combination of several Oslon LX LEDs.
---
Original Press Release:

LED Automotive Light for Every Budget



The Oslon LX LED from Osram Opto Semiconductors offers affordable LED solutions for even the subcompact automotive market



With the Oslon LX, Osram Opto Semiconductors is offering a new LED for widespread application in the automotive sector. The focus is on the essential functions of brightness and quality making these new, white light emitting diodes affordable, even for installation in subcompact vehicles.  Oslon LX LEDs will be used mainly for daytime running lights and fog lights and will provide visual and technical enhancements to automobiles from high-end down to the entry level segment.



Experience has shown it always takes time before the price of high-tech applications fall to such an extent that they are practical for the mass market. Osram Opto Semiconductors has now reached this important threshold in LED automotive lighting. The new Oslon LX LED is based on the marriage between tried and tested package and converter technologies and a new chip technology (UX:3). This new technology offers the usual high quality standards and light output typical of all LED products from Osram.



What sets the Oslon LX LED apart is its focus on the essential objective of producing a large amount of light at an affordable price. Oslon LX is ideal for applications in which high light output and high energy efficiency are crucial factors – such as fog lights and daytime running lights. Low beam and high-beam applications are also possible, however, with a combination of several Oslon LX LEDs.



High quality at an affordable price

The Oslon LX LED is based on the latest UX:3 chip technology, with a tried and tested silicon converter. At a temperature of 25 degrees Celsius (in the chip), the LED produces 125 lumens from a current of 350 mA. At a higher operating temperature of around 100 degrees Celsius, the LED achieves a luminous flux of 100 lumens. The LED lens has a beam angle of 120 degrees which means the new LED meets the established standard for reflector solutions in automobiles and that the systems used in the compact and subcompact segments can be retained. Like the other highly successful LEDs from Osram Opto Semiconductors, the package for the Oslon LX is very compact, measuring only 3x3 mm² and the solder pad design is identical to the other Oslon automotive components.



LEDs for everyone

"The combination of high quality and low price means that LED designs can be introduced in many more vehicle classes," said Michael Martens, Marketing Manager at Osram Opto Semiconductors. "Oslon LX is an LED for everyone and it complements our highly successful Oslon family with an attractive product for the lower price segment of the automotive market."



The Oslon LX will be showcased for the first time at electronica 2012, November 13-16, Munich, Germany,  in Hall A3, Booth 107.



Technical data LUW CVBP  (at an operating current of 350mA):

Dimensions Component size 3x3 mm²

Technology base UX:3 chip with silicon converter

Beam angle 120°

Luminous flux 125 lm (Tj = 25°C)

100 lm (Tj = 100°C)

Typ. cct 6500° K

Maximum current  1000 mA

Thermal resistance Rth 9.5 K/W



For more information on the product see the product catalog.



www.osram-os.com/pr-oslon-lx



ABOUT OSRAM OPTO SEMICONDUCTORS

OSRAM AG, a wholly owned subsidiary of Siemens, is one of the two leading lighting manufacturers in the world. Its subsidiary, OSRAM Opto Semiconductors GmbH in Regensburg (Germany), offers its customers solutions based on semiconductor technology for lighting, sensor and visualization applications. Osram Opto Semiconductors has production sites in Regensburg (Germany) and Penang (Malaysia). Its headquarters for North America is in Sunnyvale (USA). Its headquarters for the Asia region is in Hong Kong. Osram Opto Semiconductors also has sales offices throughout the world. For more information go to www.osram-os.com.



Press Contact:

Kate Cleveland

Tel.  248-684-1476

Fax   248-596-0395

Email: kate.cleveland@osram-os.com



Technical Information:

OSRAM Opto Semiconductors

Tel. 866-993-5211

e-mail: info@osram-os.com

More from Laboratory and Research Supplies and Equipment