White LED Exit Sign Bulbs can replace incandescents.
Press Release Summary: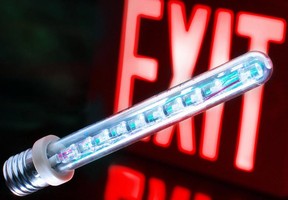 Offered as alternative to 15T6 or 20T6 incandescent exit sign bulbs, solid-state EXL-W Series features flame-resistant polycarbonate resin construction that promotes visibility even in brightly lit situations. Bulbs exhibit average lifespan of 50,000+ hr and come in base options of S6 Candelabra Screw, 15 mm Intermediate Screw, and 15 mm DC Bayonet. All bulbs light up on 120 V and put out 12 lumens of unfiltered light. Depending on base style, LEDs consume 1.10 or 2.20 W of energy.
---
Original Press Release:

White EXL-W LED Exit Sign Bulbs



Replaces Incandescent Bulb Number 15T6 and 20T6, Offering Long Life and Lower Energy Use

TORRANCE, CA - Feb 5, 2007 - LEDtronics® announces EXL-W Series White Exit Light LED Bulb that is bright, safe, and maintenance free. The EXL-W Series exit light LED bulbs provide a great alternative to your conventional 15T6 or 20T6 incandescent exit sign bulbs. The flame resistant polycarbonate resin construction of this LED bulb allows for great durability and visibility in bright light when it may be too light to see your typical bulb light up. With the EXL-W series exit LED bulb, you can rest assured it will remain brightly lit to guide your way out in situations such as heavy smoke. Not only that, but the EXL-W series LED requires no extra wiring to install and has a 5-year warranty in case of malfunction. Furthermore, the low power consumption saves you money while keeping you safe and your exit door locations well lit!

These White Exit Sign LED bulbs come in base options of S6 Candelabra Screw, 15mm Intermediate Screw, and 15mm DC Bayonet. Regular 15mm Intermediate Screw Bayonet Base EXL-W LED bulbs use only 2.20 Watts of energy while the replacement LED T6-15mm Bayonet Base uses 1.10 Watts of energy. All series EXL-W LED bulbs light up on 120V and put out 12 Lumens of unfiltered light.

Solid-state design renders LEDs impervious to shock, vibration, frequent switching, and environmental extremes. With an average lifespan of 50,000-plus hours (5 years), white LED bulbs operate more than 20 times longer than the equivalent incandescent bulb! Savings from reduced maintenance costs and downtime quickly return the capital investment expenditure! LED lamps produce almost no heat and require 80% - 90% less operating power than equivalent incandescents, making them as friendly to the environment as they are to the operating budget.

Founded in 1983, LEDtronics' leads where others only follow when it comes to designing, manufacturing and packaging state-of-the-art LEDs to meet the world's constantly changing lighting needs. Our inventive product line encompasses an array of direct incandescent lamp replacement Based LEDs, low-cost snap-in and relampable Panel Mount LEDs, high intensity sunlight-visible Discrete LEDs, PCB LEDs circuit board status indicators, surface mount diodes SMT LEDs, full-spectrum rainbow RGB LEDs and Infra-Red (IR) LEDs.

Prices for EXL-W Exit Light LED bulb retails between $19.95 to $36.00 depending on base type. Large quantity discounts are available, distributors welcome. Availability is stock to 4 - 6 weeks for special requirements. EXL-W series Lights carry a 5-year limited warranty. For additional information on how to incorporate EXL-W Series Exit Light LED bulbs into your product designs, contact LEDtronics toll free at 1-800-579-4875, telephone 310-534-1505, fax at 310-534-1424, e-mail at webmaster@ledtronics.com or mail at LEDtronics Inc., 23105 Kashiwa Court, Torrance, CA 90505. Visit our website at ledtronics.com.

Read the datasheet on line at URL: http://ledtronics.com/ds/EXL-021/

For Technical Information Contact:
Jordon Papanier at 310-534-1505
E-Mail: jpapanier@ledtronics.com

More from Agricultural & Farming Products