White LED Drivers suit wireless handset applications.
Press Release Summary: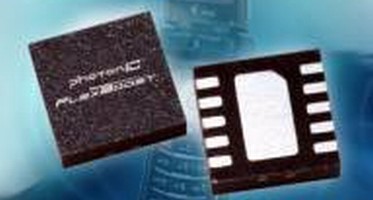 PhotonIC(TM) family is based on FlexBoost(TM) technology, which allows designers to drive several asymmetrical strings of WLEDs, as well as OLED display, with appropriate voltage on each channel using single chip and inductor. Operating with input voltages from 2.7-6 V at 1 MHz switching frequency, current is independently set for each output using external resistor or controlled by analog voltage and PWM input. Devices feature input undervoltage lockout and output overvoltage protection.
---
Original Press Release:

California Micro Devices Introduces a Breakthrough Technology and a New Family of Inductor Boost LED Drivers for Wireless Handsets



PhotonIC(TM) CM93xx Family Based on FlexBoost(TM) Delivers Unmatched Efficiency

MILPITAS, Calif., May 1 / -- California Micro Devices (NASDAQ:CAMD) today introduced FlexBoost(TM), a breakthrough power saving technology, and four new products (CM93xx) in its PhotonIC(TM) family of white LED (WLED) drivers for wireless handset applications that are based on it. FlexBoost(TM) technology allows designers to drive several asymmetrical strings of WLEDs, as well as an OLED display, with the appropriate voltage on each channel using a single chip and a single inductor. At a time when multimedia capabilities such as gaming, video camcorder and imaging are becoming increasingly popular resulting in growing demands on battery life, CMD's FlexBoost(TM) architecture can improve efficiency by as much as 40 percent when driving backlight displays and camera flash from a single WLED driver solution at the lowest bill of materials cost and in the smallest footprint.

Product Features

The CM93xx family includes four inductor boost products based on FlexBoost(TM) technology. Their respective drive capabilities are summarized in the following table:


Product                          Drive Capabilities

  CM9330    Three (asymmetrical) strings of WLEDs with FlexBoost(TM) using

            single inductor

  CM9321    Two (asymmetrical) strings of WLEDs + One channel for OLED panel

            with FlexBoost(TM) using single inductor

  CM9320    Two (asymmetrical) strings of WLEDs with FlexBoost(TM) using

            single inductor

  CM9311    One string of WLEDs + One channel for OLED panel with

            FlexBoost(TM) using single inductor
Each of the products can operate with input voltages ranging from 2.7V to 6V. Current can be set independently for each output using an external resistor or can be controlled by an analog voltage and PWM input. The output voltage and current ripple are less than 1 percent. They operate at a 1MHz switching frequency, allowing the use of a smaller inductor, and feature input undervoltage lockout and output overvoltage protection.

FlexBoost(TM) Benefits

The CM93xx family utilizes the breakthrough FlexBoost(TM) technology that allows driving multiple asymmetrical WLED strings in the most efficient way. Unlike existing boost WLED drivers, products based on FlexBoost(TM) technology can supply the appropriate voltage to each string instead of the highest voltage to all strings. A typical example is using the CM9330 to drive one string for the main display backlight with up to five WLEDs, a second string for three WLEDs and a third output for a single WLED. The required voltages in this case are 18V, 11.2V and 4.2V, respectively. Instead of supplying 18V to all channels, the CM9321 supplies the appropriate voltage to each string, resulting in a significant increase in efficiency.

Application & Deliverables

Both product families are a perfect fit to drive backlight, keypad and camera flash LED su systems in the most efficient way by leveraging FlexBoost(TM) technology in a compact footprint and at the lowest bill of materials cost. Reference design kits are available to customers to allow a rapid evaluation of the advantages and benefits of this product portfolio.

Packaging, Pricing and Availability

The CM9330 and CM9321 are housed in a low profile QFN16 package, and the CM9320 and CM9311 in a 3mm x 3mm DFN10. All of the products described are currently sampling and reference design kits are available. Pricing ranges from $1.20 to $1.60 in 1,000 unit quantities. Production is scheduled for Q2 2006.

About California Micro Devices Corporation

California Micro Devices Corporation is a leading supplier of application specific analog semiconductor products for the mobile handset, personal computer and digital consumer electronics markets. Key products include Application Specific Integrated Passive(TM) (ASIP(TM)) devices and high value, mixed signal ICs. Detailed corporate and product information may be accessed at www.calmicro.com.

Source: California Micro Devices Corporation

CONTACT: Richard Haas of California Micro Devices Corporation, +1-408-934-3108, or richardh@calmicro.com

Web site: www.calmicro.com/

More from Fluid & Gas Flow Equipment