White LED Driver features PWM phase-shift dimming control.
Press Release Summary: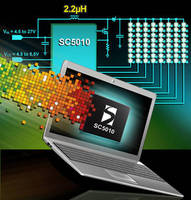 Featuring integrated control loop architecture that allows use of inductors as small as 1 mm high and 2.2 µH, Model SC5010 can be built directly into LCD panel in Ultrabook PCs and ultra-mobile PCs for displays as thin as 4 mm. Eight-channel boost LED driver can power up to 112 LEDs, with currents up to 30 mA/channel. Operating from 4.5-27 V input with VOUT up to 50 V, device offers switching frequency of 2.2 MHz and handles line transients up to 10 V/µs, preventing display flicker and shutdown.
---
Original Press Release:

Semtech Brings Phase-Shifted LED Backlight Drive to the Panel for the First Time for Ultrabook(TM) and Ultra-Thin Notebooks



SC5010 uses tiny, 2.2µH, 1mm height inductors for displays as thin as 4mm with high efficiency

CAMARILLO, Calif., -- Semtech Corp. (Nasdaq: SMTC), a leading supplier of analog and mixed-signal semiconductors, today launched the first device in its innovative platform of phase-shifted boost LED drivers. The new SC5010 is an 8-channel white LED driver with an innovative PWM phase-shift dimming control that uses very low-profile inductors, allowing LED drivers to be built directly into the LCD panel in Ultrabook PCs and ultra-mobile PCs (UMPC) for displays as thin as 4mm. It also enables ultra-thin LCD displays with longer battery life in tablet, automotive, and other mid-size display applications.

The SC5010 delivers higher efficiency when using the same size inductors as existing phase-shifted LED drivers, but unlike these devices, the SC5010 can operate with inductors that are up to 10X smaller while maintaining high efficiency. This enables LED drivers to be designed directly into the panel, even in ultra-thin applications. This is due to the sophisticated control loop architecture, which allows the use of inductors as small as 2.2µH (1mm height). The phase-shifted technology in the SC5010 also minimizes demand on the input and output capacitance offering the high efficiency of conventional non-phase shifted switching regulators, with significantly lower noise, less EMI (electromagnetic interference), and no need for noise filtering components.

"Now, for the first time, Ultrabook PC manufacturers can place efficient, phase-shifted LED drivers where they prefer them - next to the display, which, until now, has been a roadblock for Ultrabook and other very small form factor PCs," said Athar Zaidi, Director of Marketing in Semtech's Power Management Group. "The SC5010 offers a superior phase-shifted LED driver approach that significantly reduces the tradeoffs between inductor size and display efficiency."

The SC5010 is an 8--channel boost LED driver that can power up to 112 LEDs, with currents up to 30mA per channel. The integrated control loop architecture of the device allows programmable switching frequencies as fast as 2.2MHz and is the key to enabling phase-shifted dimming using very small, low-profile inductors. Additionally, this approach reduces BOM size and cost by eliminating external compensation and noise filtering components.

Semtech's innovative loop architecture also prevents display flicker and shutdown caused by line transients that can occur in automotive applications. This is achieved via the ultra-fast transient response of the SC5010, which allows it to handle line transients up to 10V/µs.

The SC5010 LED driver brings to market a rich feature set for the next generation of displays, including the flexibility of I2C and three PWM dimming control modes. It features a wide PWM input dimming range of 5000:1 at 200Hz and a dimming frequency range from 100Hz to 30kHz. The SC5010 also provides user-selectable 9 or 10 bit dimming resolution and a 5-bit analog dimming register that can be used in conjunction with PWM to increase the dimming resolution.

The phase shifted PWM dimming turns the LED strings on and off at the same frequency and the same duty cycle, but at different and equally spaced, automatically calculated phases. This reduces demand on the input/output capacitance to decrease radiated switching current, which improves EMI performance and dimming linearity.

The SC5010 delivers accurate backlight color temperature and uniform brightness across the entire display, with +/-1% channel-to-channel current matching and accuracy of +/-1.5%. Full protection functions include open LED and programmable shorted LED, adjustable over-voltage (OVP), and over-temperature protections; as well as under-voltage lock out (UVLO) shutdown.

Key Features of SC5010

o Wide VIN range: 4.5V to 27V; High VOUT range: up to 50V

o Uses ultra-thin, 2.2µH inductors (1mm height)

o 8 channel LED driver, up to 30mA per channel, drives up to 112 white LEDs

o String-by-string phase-shifted PWM dimming

o Fast transient response handles line transients up to 10V/µs

o High efficiency up to 92%

o Programmable switching frequency from 200kHz to 2.2MHz

o Low-profile 28-pin MLPQ package with exposed thermal pad: 4 x 4 x 0.6mm

Applications

The SC5010 is ideal for LCD backlighting in LCD monitor applications, including:
Automotive: Audio/Video Module, Seatback Infotainment, Instrument Cluster
Consumer Electronics: LCD Display Backlight
Ultrabook PC, Ultra-Mobile PC, Notebook PC, Tablet PC: LCD Display and Backlight

Pricing and Availability

The SC5010 is available immediately in production quantities and is priced at $1.20 each in 3,000-piece lots. The ordering code is SC5010ULTRT. Evaluation boards (SC5010EVB) are also available. Semtech offers comprehensive design assistance, including field- and factory-based support. Data sheets, volume pricing, and delivery quotes, as well as evaluation kits and samples, are available at www.semtech.com/info.

About Semtech

Semtech Corporation is a leading supplier of analog and mixed-signal semiconductors for high-end consumer, computing, communications and industrial equipment. Products are designed to benefit the engineering community as well as the global community. The company is dedicated to reducing the impact it, and its products, have on the environment. Internal green programs seek to reduce waste through material and manufacturing control, use of green technology and designing for resource reduction. Publicly traded since 1967, Semtech is listed on the NASDAQ Global Select Market under the symbol SMTC. For more information, visit www.semtech.com.

Semtech and the Semtech logo are registered marks of Semtech Corporation. I2C and I2C bus are trademarks of NXP B.V. Ultrabook is a trademark of Intel Corporation in the U.S. and/or other countries.

More from Packaging Products & Equipment