WhisperTrak™ Linear Actuators meet IP67 standards.
Press Release Summary: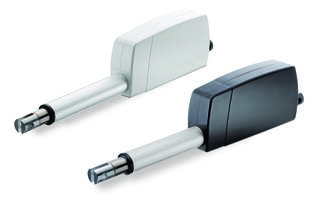 Available in 2kN and 4kN versions with stroke lengths between 100 and 500 mm, WhisperTrak™ Linear Actuators are operated on 12- or 24-volt input supply. 4 kN version is rated for 900 lb with load speed of 4 mm/s, whereas 2 kN version for 450 lb with 8 mm/s load speed. Having 10,000 cycles of average life at maximum load capacity, units are suitable for medical, personal mobility, material handling, marine and structural automation applications.
---
Original Press Release:
Thomson Expands WhisperTrak™ Linear Actuator Line with New Options for Higher Load Handling and Speed, and Smarter Control
Thomson Industries, Inc., a leading manufacturer of mechanical motion control solutions, has expanded its WhisperTrak actuator line to give motion system designers greater ability to extend quiet, compact actuation to more demanding applications. New additions to the WhisperTrak linear actuator line double force-handling capability from 2kN to 4kN; provide higher-speed operation at 2kN; and offer new options for low-level switching, limit switching and position control at both 2kN and 4kN operation.
"We had initially developed the WhisperTrak line for lower-load applications that benefit from a sleek, compact design, such as patient handling, personal mobility and office operations," said Travis Gilmer, Thomson Product Line Specialist. "When system designers saw the whole package, though, they wanted it for higher-force applications as well. To deliver that, we doubled the available load capacity and bundled in some of the advanced onboard electronics capabilities we have been advancing across all of our product lines. The result is a quiet, intelligent actuator with extremely high power density."
The 4kN WhisperTrak offering is rated for 4kN (900 lbs.) with load speed at 4 mm/sec (0.16 in./sec). The 2kN version is rated for 2,000kN (450 lbs.) with load speeds of up to 8 mm/s (0.31 in./sec). All models can be specified for 12- or 24-volt input with stroke lengths available between 100 and 500 mm (3.94 to 19.69 in.).
Smarter operation
With the recent WhisperTrak expansion, designers can choose from among the following electronics options:
Five-wire, low-level switching with electronic limit switches for applications that require switching of high-amperage current. Electronic limit switching (ELS) automatically cuts power to the actuator when a preset threshold is reached. It is valuable for both control precision and safety, and Thomson originally offered it bundled with low-level switching in a 5-wire assembly only. Low-level switching can be valuable for wiring high-current draw loads into a programmable logic controller or small battery.
Two-wire switching with electronic limit switches only, which simplifies wiring and installation for applications that require process start/stop location information but do not require low-level switching. Those who don't need low-level switching can now get WhisperTrak with ELS functionality embedded in the board of a 2-wire actuator and get the benefits of ELS without the cost and complexity of unnecessary wiring.
Embedded potentiometer and digital encoder with electronic limit switches, which free designers to use position feedback for other purposes. Embedded ELS also gives designers more control flexibility for lower loads or for applications not using low-amperage controls. To determine when the end of a WhisperTrak stroke had been reached, users have had to control 100 percent of stroke or run control logic fed by wired-in devices such as non-contact sensors or Hall encoders. Embedding ELS into the firmware, however, retains end-of-stroke protection without the need for additional programming and configuration. Users can now run the operation up to the end of the stroke without worrying about damaging the actuator or control configuration.
Environmental resistance
The new WhisperTrak offerings have the same ruggedness as original Thomson actuators. This includes an IP67 static environmental rating, which provides the ability to operate in harsh conditions in which they are exposed to washdown, rain and dust without the use of an additional cover. All are ETL listed for use on medical devices and conform to medical equipment safety standards AAMISTD-ES60601-1, IEC 60601-1 and CSA CERFTIFIC C22.2 60601. WhisperTrak actuators are maintenance free and have an average life of 10,000 cycles at the maximum load capacity.
Availability
All WhisperTrak options are available for immediate shipping. For more information please visit: http://www.thomsonlinear.com/website/com/eng/products/actuators/whispertrak.php
About Thomson Industries, Inc.
With more than 70 years of motion control innovation and quality, Thomson is the industry's premier producer of Linear Ball Bushing® Bearings and Profile Rail Bearings, 60 Case® Shafting, Ground and Rolled Ball Screws, Linear Actuators, Gearheads, Clutches, Brakes, Linear Systems and related accessories. Thomson invented the Linear Ball Bushing Bearing in 1945 and has set the standard ever since with an unsurpassed set of mechanical motion control solutions serving global commercial and aerospace and defense markets. Thomson has facilities in North America, Europe and Asia with more than 2000 distributor locations around the world.
Contact:
Rob Gallagher – +1 630 694 3321
Thomson Industries, Inc.,
203A West Rock Road,
Radford, VA 24141;
1-540-633-3549;
1-540-633-0294 (fax);
Related