Wheels handle demanding loads in shop or warehouse.
Press Release Summary: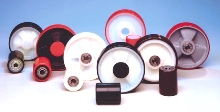 Stellana rubber, nylon, and polyurethane wheels, for internal transport equipment, are wear resistant and resist variety of chemicals. Rubber wheels include non-marking rubber and withstand high temperatures. Loads up to 1,102 lbs can be accommodated. Self-lubricating Nylon wheels feature impact resistance and handle loads up to 3,968 lbs. Polyurethane wheels have nylon cores bonded to polyurethane treads and handle loads up to 1,543 lbs.
---
Original Press Release:

Specialized Wheels for Internal Transport Equipment Available from SKF Motion Technologies


A complete line of Stellana rubber, nylon, and polyurethane wheels for internal transport equipment is available from SKF Motion Technologies (Bethlehem, PA). These specialized wheels in varying types and diameter sizes can accommodate the most demanding loads and withstand high temperatures in the shop or warehouse. All wheels are quiet, wear-resistant, maintenance-free under normal operating conditions, and can resist a wide variety of chemicals.

Rubber wheels available from SKF® include types made with a non-marking rubber developed specifically for wheel treads and providing excellent grip; wheels uniquely engineered to withstand unusually high temperatures (ideal for oven and kiln applications); and types combining synthetic and natural rubber in plain or roller bearing styles. Loads up to 1,102 lbs. (500kg) can be accommodated, depending on type.

Nylon wheels offer an ideal combination of bearing capacity, impact resistance, and low rolling resistance. These self-lubricating plain-bearing wheels are offered in light-duty and heavy-duty models and can handle loads up to 3,968 lbs. (1,800kg).

Polyurethane wheels in several types feature nylon cores bonded to polyurethane treads. These can provide excellent wear resistance and rolling resistance and can accommodate loads up to 1,543 lbs. (700kg). Plain, roller, or ball bearing styles are available.

All high-quality wheels from SKF can be customized for application-specific requirements.

Contact James M. Brown, SKF Motion Technologies, 1530 Valley Center Parkway, Bethlehem, PA 18017-2266. Phone: (800) 541-3624 (toll-free) or (610) 861-3712. Fax: (610) 861-3737. Web site: www.linearmotion.skf.com

More from Controls & Controllers