Wheelchair integrates 5-point harness for increased safety.
Press Release Summary: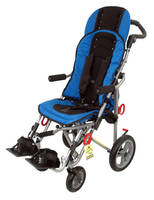 EZ Rider®, Cruiser®, and Convertible® are WC19-compliant transit wheelchairs that allow children who weigh less than 65 lb to safely travel in motor vehicles while still in their wheelchairs. This is made possible via integrated 5-point safety harness which optimizes restraint and safety of small children by improving belt fit and encouraging distribution of restraint forces to strongest skeletal regions of body.
---
Original Press Release:
Convaid Launches WC19 Compliant Transit Wheelchair with Integrated Five-Point Harness for Increased Safety During Transportation
Convaid Inc. successfully crash-tested & built a WC19 compliant transit wheelchair with an integrated five-point safety harness. The new improved wheelchair harness is designed to replace the current three-point vehicle mounted lap/shoulder belt and improve safety for small children. Selected new Convaid transit wheelchairs models EZ Rider®, Cruiser®, Convertible® have the five-point harness (as standard) and have been tested and approved for children less than 65 lbs. Wheelchair manufacturers recommend that wheelchair users transfer out of their wheelchairs to ride in regular vehicle seats while the vehicles are in motion. However, transferring isn't always practical, either for the wheelchair user or the caregiver/vehicle driver. This improved WC19 compliant 5-point harness, allows the wheelchair users to travel in motor vehicles while still in their wheelchairs with superior safety. According to research published by the University of Michigan Transportation Research Institute (UMTRI), "A wheelchair-anchored five-point restraint harness will offer improved restraint and safety to small children by improving belt fit and encouraging better distribution of restraint forces to the strongest skeletal regions of the body." This research resulted in a proposed change to the ANSI-RESNA WC19 standard that will require testing with the five-point harness. The Convaid five-point wheelchair harness system was developed in collaboration with the SafeGuard division of IMMI, manufacturers of occupant protection products. UMTRI Transportation Research Institute assisted in prototype testing of this five-point wheelchair harness. More detailed information about the complete range of pediatric strollers, pediatric wheelchairs and adult wheelchairs and their related options and accessories can be found at www.convaid.com About Convaid Convaid specializes in complete range of pediatric strollers, pediatric wheelchairs & adult wheelchairs. The wheelchair product line has advanced design, seating & mobility combinations for a variety of special needs and physical disabilities. Many options & accessories equip the wheelchairs for rehab seating and advanced positioning with custom accuracy. Convaid is known globally as the OEM for the following Wheelchair brands: EZ Rider®, Cruiser®, Metro®, Rodeo®, Profiler® Scout®, Safari® and Mountee®, Compax®, Cuddlebug® , Convertible® Convaid is a registered member of the following organizations: NCART = www.ncartcoalition.org NRRTS = www.nrrts.org Texas Rehab Providers Council www.txrpc.org RESNA www.resna.org All Convaid pediatric strollers, pediatric wheelchairs and adult wheelchairs are backed by a lifetime warranty, meet all wheelchair safety requirements and are ANSI/RESNA WC19 compliant. For more information, please contact Convaid sales@convaid.com, Tel: (310) 618-0111, ext 116 or email Gina Reed Gina@convaid.com About UMTRI The Transportation Research Institute at The University of Michigan conducts interdisciplinary research to increase driving safety and further transportation systems knowledge. UMTRI is currently operating research program, with funds received from federal and state government agencies, motor vehicle manufacturers and suppliers, and other organizations www.umtri.umich.edu About SafeGuard SafeGuard has been the leader in child passenger protection for over 20 years and is the largest child seating safety products manufacturer in the world. SafeGuard manufacturers high quality belts, buckles, and harness clips and conducts state-of-the-art crash testing on-site testing facility. SafeGuard engineers create child restraints that are safer, easier to use, more convenient and that provide advanced child protection. SafeGuard //http://www.safeguardseat.com/ is a division of IMMI, a leader in occupant safety products for over 40 years
More from Thermal & Heating Equipment