Wheel Loader combines power, comfort, and compliance.
Press Release Summary: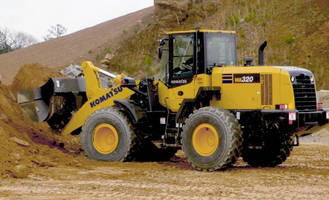 With net horsepower of 165 hp, WA320-7 weighs 33,731 lb and is powered by SAA6D107E-2 engine that is EPA Tier 4 Interim and EU Stage 3B emission certified. Standard features include Parallel Z-bar loader linkage, SmartLoader Logic, and third generation electronically controlled hydrostatic drivetrain with self-braking effect and Komatsu Traction Control System. KOMTRAX® technology, included, wirelessly sends machine operating information to secure website, allowing remote diagnostics.
---
Original Press Release:

Komatsu America Corp. Launches New WA320-7 Wheel Loader



New Machine Powered by Tier 4 Interim Engine Technology



Rolling Meadows, IL — Komatsu America Corp. today introduces the WA320-7 wheel loader.  With a net horsepower of 165hp (123 kW), the WA320-7 is powered by a Komatsu SAA6D107E-2 engine and is EPA Tier 4 Interim and EU Stage 3B emission certified. Built upon a proven Tier 3 engine platform, Komatsu has leveraged its leadership in technology and innovation to design a more environmentally friendly engine,which decreases fuel consumption by up to10 percent, compared to the WA320-6.



The WA320-7 replaces the WA320-6 and WA320PZ-6. Weighing in at 33,731 pounds (15,300 kg), the new wheel loader features improved efficiency, lower fuel consumption, improved operator comfort, and enhanced serviceability to maximize productivity while lowering operating costs*.



ONE MACHINE FOR ALL APPLICATIONS

The WA320-7 utilizes the versatile Parallel Z-bar (PZ) loader linkage. It provides the added advantage of parallel lift for pallet moving and high tilt forces to handle large attachments. The PZ linkage also offers large break-out forces to make bucket filling easy and quick. Ideal for loading material and earthmoving jobs, its lift force is increased by up to 10% compared to the WA320PZ-6 for improved digging performance.



New features of the WA320-7include:



• SmartLoader Logic

The WA320-7 features Komatsu SmartLoader Logic, which provides optimal engine torque for the job required.  Komatsu SmartLoader Logic helps save fuel by automatically decreasing engine torque when the loader isn't working hard, such as when it is driving with an empty bucket.  Komatsu SmartLoader Logic functions automatically and doesn't interfere with operation, saving fuel without decreasing production.



• Responsive Hydrostatic Powertrain System

Now in its 3rd generation, the Komatsu hydrostatic (HST) drive train features increased pump capacity for higher efficiency and responsiveness. The self-braking effect of the HST drivetrain slows down the machine when the accelerator is released. Additionally, brake wear is practically eliminated. Control is enhanced which is especially important when working in tight places.



The electronically controlled HST drivetrain features the Komatsu Traction Control System (K-TCS) and facilitates operation in soft or slippery ground. Simplified traction controls feature 3 settings: MAX, AUTO and S-Mode. The Variable Speed Control (VSC) allows the operator to set a speed up to 8.1 mph for applications such as mowing or broom use. For slower speeds, the creeping speed range sets a speed up to 2.5 mph.



• Convenient Maintenance and Serviceability

The WA320-7 provides easy service access to reduce downtime.  The new wheel loader has increased cooling capacity, wider cooling fin spacing and a standard auto-reversing fan to help keep the radiator clean.  The machine is equipped with the exclusive Komatsu EMMS (Equipment Management Monitoring System), which provides enhanced diagnostic features that give the operator and technicians greater monitoring and troubleshooting capabilities.  EMMS also continuously monitors all critical systems, as well as the planned maintenance schedule, and provides troubleshooting assistance to minimize diagnosis and repair time.



• Enhanced Operator Environment

The new cab provides a more comfortable and quieter work environment so the operator can maximize productivity.  For improved visibility, the front glass has been lowered and the dashboard has been redesigned.  A new redesigned seat-mounted right hand console has a multi-function mono-lever with proportional control for the integrated 3rd spool.  An auxiliary input has also been added to connect an MP3 player or other device along with two 12-volt ports that have been incorporated into the cab.



The high-resolution 7" LCD monitor features enhanced capabilities and displays information in 25 languages for global support.  Using the monitor, the operator can easily modify settings for items such as the new Auto Idle Shutdown or the auto-reversing fan. Operators can also check operational records, such as working hours or fuel consumption; monitor the KDPF soot load; or check how much time is required before the next maintenance interval.  Additionally, the monitor offers the operator the option of using the ECO Guidance function, which will provide operational tips to reduce fuel consumption.  A high-resolution back-up camera is standard with every machine and the separate monitor is mounted on the right hand side of the console for operator convenience.



• EPA Tier 4 Interim and EU Stage 3B Emission Certified Engine

Built upon proven Tier 3 technology, the SAA6D107E-2 engine provides lower emissions while also lowering fuel consumption.  The Komatsu Tier 4 Interim engine uses an advanced electronic control system to manage air flow rate, fuel injection, combustion and exhaust aftertreatment to optimize performance, reduce emissions, reduce fuel consumption and provide advanced diagnostic capability.



As a leader in hydraulic technology, Komatsu has developed a hydraulically actuated Komatsu Variable Geometry Turbocharger (KVGT) and an Exhaust Gas Recirculation (EGR) valve, resulting in better precision and air management as well as longer component life.  The Komatsu Diesel Particulate Filter (KDPF) has an integrated design that will not interfere with daily operation but will keep the operator aware of its status.  This smart system enables a high percentage of passive regeneration.



• Customer peace-of-mind is standard with Komatsu CARE®

Komatsu remains focused on lowering the customer's ownership costs by engineering machines with increased fuel efficiency and productivity.  To further reduce owning and operating costs, Komatsu CARE® complimentary scheduled maintenance is standard on all WA320-7 wheel loaders for the earlier of three (3) years or 2000 hours(whichever occurs first).  Services are performed by factory-certified technicians using only Komatsu genuine parts and fluids. Also included are complimentary KDPF exchanges at 4,500 hours and 9,000 hours within the first five (5) years.



The WA320-7 is equipped with the latest KOMTRAX® technology, which is fully integrated with Komatsu's Tier 4 technology and sends machine operating information to a secure website utilizing wireless technology.  Data such as operating hours, fuel consumption, location, cautions and maintenance alerts are relayed to the web application for analysis.  The KOMTRAX fleet monitoring system increases machine availability, reduces the risk of machine theft, allows for remote diagnosis by the distributor, and provides a wealth of other information to help drive business efficiency and productivity.



Komtrax® is a registered trademark of Komatsu, Ltd.



Komatsu CARE® is a trademark of Komatsu America Corp.



* Note: All comparisons and claims of improved performance made herein are made with respect to the prior model WA320-6 unless otherwise stated..



Komatsu America Corp. is a U.S. subsidiary of Komatsu Ltd., the world's second largest manufacturer and supplier of earth-moving equipment, consisting of construction, mining and compact construction equipment. Komatsu America also serves forklift and forestry markets. Through its distributor network, Komatsu offers a state-of-the-art parts and service program to support the equipment. Komatsu has proudly been providing high-quality reliable products for nearly a century.  Visit the website at www.komatsuamerica.com for more information.



Komatsu America Corp.

Mari Aoyagi

847.437.4019

 



maoyagi@komatsuna.com





More from Services