Wheel Excavators feature electronically controlled engine.
Press Release Summary: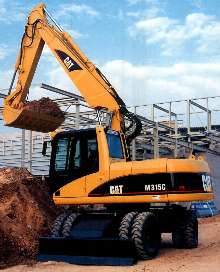 Models M313C and M315C feature Cat® 3054E ATAAC engine, high-efficiency hydraulics, heavy-duty undercarriage, and ergonomic operator station. Model 115 hp M313C has operating weight of 28,800-32,520 lb, while 121 hp M315C has operating weight of 33,070-36,710 lb. Max reach is 29 ft 2 in. and 30 ft 4 in. for M313C and M315C respectively. Both units are offered with 1-piece and Variable Adjustable (VA) boom options as well as 2 stick options.
---
Original Press Release:

New Caterpillar® M313C and M315C Wheel Excavators Offer Increased Performance, Improved Operator Station, Easier Maintenance


Caterpillar introduces the M313C and M315C wheel excavators, which complete the new C-Series wheel excavator line. The new excavators feature an electronically controlled engine that provides more power, improved fuel economy and reduced emissions. Increased lifting and digging performance boost productivity, and a more comfortable operator station with an easy-to-read monitor enhance operator efficiency. Extended fluid change intervals and easy access to service points cut maintenance costs.

The M313C replaces the M312, and the M315C replaces the M315. Like their predecessor models, the new machines feature high-efficiency hydraulics, a heavy-duty undercarriage and a wide range of boom, stick and work tool options. Designed and built for performance, versatility and mobility, the C-Series machines work productively and cost effectively in a variety of applications, including road work, urban construction, waste transfer stations, scrap handling, millyards, high rail applications and underground mine scaling.

The M313C delivers 115 net horsepower (86 kilowatts) and has an operating weight of 28,800 to 32,520 pounds (13 100 to 14 750 kilograms). The M315C has 121 net horsepower (91 kilowatts) and an operating weight of 33,070 to 36,710 pounds (15 000 to 16 650 kilograms).

Both machines produce more power than the machines they replace. Larger boom and stick cylinders combined with 6 percent more pressure in the implement circuit improve lifting and digging capabilities. A separate, dedicated swing pump provides maximum swing performance without reducing power to the main hydraulic functions. The stick regeneration circuit reduces cycle times.

For applications requiring frequent changes of work tools, Caterpillar offers a new, optional multi-function valve that can be electronically programmed to set flow, direction, pressure and priority for up to five tools. By simply pushing a button on the cab monitor, the operator selects the setting for the desired tool. This on-board electro-hydraulic function eliminates the need for manual readjustment of auxiliary hydraulics every time a different tool is used.

Electronically controlled engine
A Cat® 3054E ATAAC electronically controlled engine powers each of the two new excavators. The 4-cylinder diesel engine is turbocharged and air-to-air aftercooled to boost performance, reduce emissions and extend engine life. Engine displacement is 269 cubic inches (4.4 liters). The engine meets EPA Tier 2 and European Stage II emissions requirements.

The engine is integrated with an electronically controlled variable speed, cooling fan. The hydraulically powered fan minimizes fuel consumption and noise by providing only the airflow that is needed. The engine compensates for varying fan loads, providing constant net power regardless of operating conditions.

Ergonomic operator station, improved monitor
The operating environment on the C-Series wheel excavators is quiet, comfortable, spacious and well ventilated. The cab shell is attached to the frame with viscous mounts to reduce sound and vibration levels. Visibility is excellent in all directions. The adjustable seat, well-placed consoles and easy-access, low-effort controls and pedals reduce operator fatigue. Air conditioning with automatic climate control is standard.

To aid the operator even further, the C-Series incorporates the already proven and accepted monitor currently found in small and medium Caterpillar tracked excavators. Compact and easy to read, the monitor displays text messages in up to 14 different languages. It keeps the operator aware of critical system conditions and allows the operator to focus on production.

Extended service intervals, easy access
The M313C and M315C offer extended fluid change intervals. Engine oil change interval has been extended to 500 hours, and, when using the Caterpillar oil sampling program, the hydraulic oil change interval can be doubled to 4,000 hours. With Cat Extended Life Coolant/Anti-freeze, the change interval is 6,000 hours. Extended fluid change intervals cut operating costs.

All daily inspection items and regular service items are accessible from ground level. Gull-wing doors with pneumatically assisted lift cylinders open for easy access to service points.

Exceptional versatility
The M313C and M315C can be equipped in many different ways to match job requirements. Two boom options are available. The one-piece boom is well suited for standard applications such as truck loading, digging, and hammer operation. A Variable Adjustable (VA) boom enhances visibility to the right side of the machine and improved balanced when roading. The VA boom offers maximum flexibility when lifting heavy loads or working in tight quarters.

Two stick options are available for each excavator. The medium stick is 7 ft 7 inches (2.3 meters) for the M313C and 7 ft 10 inches (2.4 m) for the 315C. The medium stick offers greatest crowd force and lift capacity. The long stick is 8 ft 6 inches (2.6 meters) for the M313C and M316C. It is best in applications that demand longer reach and more digging depth.

A full range of buckets-five general purpose, one extreme service and three ditch cleaning-further expand versatility. The Pin Grabber Plus Quick Coupler enables the excavator to quickly pick up and use any work tool equipped with standard pins. Optional outriggers and a dozer blade can mount on the front or rear. Both make the machine more stable, and the blade efficiently works in leveling ground or cleaning up.

For more information about the M313C and M315C wheel excavators, customers should contact their local Cat dealer or visit the Caterpillar web site at www.cat.com.

Basic Specifications for M313C and M315C



                        M313C                    M315C



Operating weight        28,880 to 32,520 lb      33,070 to 36,710 lb

                        (13 100 to 14 750 kg)    (15 000 to 16 650 kg)



Engine                  Cat 3054E ATAAC          Cat 3054E ATAAC



Net engine power        115 hp (86 kW)           121 hp (91 kW)



Max. travel speed       21 mph (34 kph)          21 mph (34 kph)



Roading width           8 ft 4 in (2550 mm)      8 ft 4 inches (2550 mm)



Max. reach

at ground level1        29 ft 2 in. (8880 mm)    30 ft 4 in. (9240 mm)



Max. digging depth1     18 ft 5 in. (5600 mm)    18 ft 10 in. (5750 mm)



Max. digging depth      18 ft 5 in. (5600 mm)    18 ft 10 in. (5750 mm)



Max. dump height1       24 ft 5 in. (7440 mm)    24 ft 5 in. (7440 mm)



Max. digging height1    32 ft 6 in. (9910 mm)    33 ft 8 in. (10 250 mm)



Range of bucket sizes   0.37 to 0.94 cu yd       0.45 to 1.19 cu yd

                        (0.28 to 0.72 cu m)      (0.35 to 0.91 cu m)

1 Equipped with VA boom and 8 ft 6 in. (2.6 m) stick

Visit the Cat trade press web site at www.catnews.info for further information on these and other Caterpillar products and services.

More from Agricultural & Farming Products