Wheel Dozer offers ergonomically designed operator station.
Press Release Summary: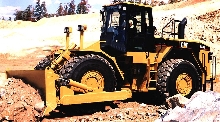 Powered by Cat 3406E diesel engine with Electronic Unit Injection (EUI), 824G Series II Wheel Dozer has 63,325 lb (max) operating weight. Its 6-cylinder, turbocharged, air-to-air aftercooled engine delivers 339 hp. Offerings include advanced Modular Cooling System (AMOCS), extreme-duty planetary powershift transmission (4 speeds forward, 4 reverse), Electronic Clutch Pressure Control, and steel front fenders.
---
Original Press Release:

Cat® 824G Series II Wheel Dozer Delivers Performance, Reliability, Operator Comfort


The new 824G Series II Wheel Dozer from Caterpillar is designed and built for high productivity and long life in a variety of rugged applications. With its new higher horsepower engine, high-capacity cooling system and ergonomically designed operator station, the 824G Series II machine is an excellent tool for production dozing, spreading, backfilling, stockpiling, pit floor and haul road maintenance, and job site clean-up.

Maximum operating weight for the G Series II wheel dozer is 63,325 pounds (28,724 kilograms). It is powered by a Cat 3406E diesel engine with Electronic Unit Injection (EUI). This six-cylinder, turbocharged and air-to-air aftercooled engine delivers 339 net horsepower (253 net kilowatts) of power, a 7 percent increase over the 824G, which the 824G II replaces. The engine uses advanced electronic controls to optimize performance, improve fuel efficiency and reduce emissions. It meets Stage II and Tier 2 emissions requirements and has a reputation as one of the most reliable, durable, high-performance engines Caterpillar offers.

An upgraded cooling system is also featured on the new wheel dozer. The advanced Modular Cooling System (AMOCS), a Caterpillar exclusive, provides better cooling capability and reduces service time.

The new machine is equipped with an extreme-duty planetary powershift transmission with four speeds forward, four reverse. Electronic controls enhance performance, improve wear life and shorten diagnostic and repair time. Electronic Clutch Pressure Control improves shift quality and reduces torque spikes to enhance operator comfort and durability. Controlled Throttle Shift allows the operator to make smooth, full-speed directional and speed changes without harming the transmission.

A well-balanced hydraulic system on the Series II wheel dozer allows precise, low-effort blade control. The standard straight blade for the machine pushes up to 6.11 cubic yards (4.67 cubic meters) of material. Its multiple box-section construction, heat-treated moldboard and DH-2(TM) steel edges and end bits make the blade extra durable. An optional Coal Blade, a Woodchip U-Blade and an Extreme Service U-Blade are also available. Other options include a counterweight, sliding cab windows, floodlights and a full-cover fender package.

New steel front fenders are standard on the G Series II machine, replacing the non-metallic design on the previous model. An all-steel hood arrangement has also been incorporated on the updated wheel dozer to enhance durability.

The 824G Series II Wheel Dozer offers many features that benefit the operator. The new model retains Command Control steering with integrated transmission controls to reduce fatigue. The blade control pod is situated at the optimum angle for natural wrist positioning, and the heavy-duty joystick provides a sturdy handle for multiple hand positions. The blade tip switch is a button located on the control handle, rather than the control pod. This allows the operator to activate the blade tip function without removing his hand from the control handle. A throttle lock feature lets the operator set the engine speed and remove his foot from the accelerator pedal, much like cruise control in an automobile.

The left foot pedal acts as both a decelerator and a brake, enabling the operator to slow down when the throttle lock is engaged and to return to throttle lock without pressing a button. This improves maneuverability around shovels, trucks and other obstacles. A six-way adjustable Cat Comfort seat incorporates heavy-duty air suspension for a better ride.

A 12-volt power supply source inside the cab permits the use of radios, telephones or laptop computers. This is particularly useful for powering a laptop computer running Electronic Technician, an advanced diagnostic tool.

Maintenance and service time have been reduced on the updated wheel dozer. Most daily maintenance can be done from ground level. Scheduled maintenance points are easy to reach. Maintenance-free batteries and lifetime lubricated U-joints in the drive train cut service time. The engine oil change interval has been extended from 250 to 500 hours, reducing operating costs and increasing uptime. A swing-out oil cooler and hinged air conditioner condenser minimize cleaning time. The operator station can be removed in about 45 minutes without having to disconnect hydraulic lines.

For more information about the 824G Series II Wheel Dozer, customers should contact their local Caterpillar® dealer or visit the Cat web site at www.cat.com.

Basic Specifications - 824G Series II Wheel Dozer


Engine                    Cat 3406E ATAAC

Gross power               380 hp (283 kW)

Flywheel power            339 hp (253 kW)

Operating weight*         63,325 lb (28 724 kg)

Wheelbase                 12.1 ft (3700 mm)

Ground clearance          15.75 in. (400 mm)

Straight blade capacity   6.11 yd³ (4.67 m³)

Straight blade width      177.4 in. (4507 mm)

Straight blade height     48.4 in. (430 mm)

Axles                     Fixed front, oscillating rear (± 13°)

Transmission              Planetary powershift, 4F, 4R



* Approximate maximum operating weight
More from Electrical Equipment & Systems