Wheel Compactor suits cohesive and clay soil environments.
Press Release Summary: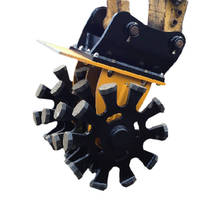 Engineered to safely compact fill material in trench as it is being back-filled, boom-mounted IHW Series features patent-pending locking wheel removal design that facilitates field accessibility to heavy-duty, sealed bearings by eliminating weld-type bearing encasements. Heavy-duty steel weldments with relief ports prevent material jam, while specially designed pads effectively penetrate trench fill and achieve bottom-up rather than top-down compaction.
---
Original Press Release:

Indeco North America Introduces New Wheel Compactor with Patent Pending Removal Technology for Field Upgradability and Repair



- New Boom-Mounted IHW Series Dramatically Increases Productivity and Reduces Cost for Demanding Soil Compaction Applications-



MILFORD, CT – Continuing its "smart-growth" strategy of identifying, evaluating and delivering new, value-added product innovations that provide quantifiable business value to the construction and demolition industries, Indeco North America, a leading provider of hydraulic breakers, compactors, crushers and pedestal booms for demanding demolition, mining, recycling and road construction applications, today launched its IHW Series of boom-mounted wheel compaction devices.



Achieving greater productivity than dedicated walk-behind units and utilizing the excavator or back-hoe applied static weight to quickly achieve compaction density, Indeco North America's new IHW Series provides a superior, cost-effective way to fully leverage existing equipment investments while enhancing jobsite safety by reducing worker time in trenches. It's engineered to efficiently, safely and economically compact fill material in a trench as it is being back-filled and features an unique, patent-pending locking wheel removal design that facilities easy, field accessibility to the heavy-duty, sealed bearings by eliminating traditional weld-type bearing encasements.



"We're very excited to be able to offer our customers this latest addition to our performance-proven family of boom-mounted compaction devices," said Mike Fischer, president and chief executive officer of Indeco North America. "This new addition, with its unique removable locking wheel design and sealed bearings, is ideally suited to those looking to economically leverage and add versatility to existing carrier equipment already on the jobsite."



Featuring heavy duty steel weldments with relief ports to prevent material jams and specially designed pads that effectively penetrate trench fill and achieve bottom-up rather than top-down compaction, the IHW Series is ideally suited for cohesive and clay soil environments where vibratory plate methods may not achieve optimum results. It's simple to install and operate due to its purely mechanical design and requires no special hydraulic connections or separate drive systems. The IHW Series is available in a wide variety of models and width sizes to accommodate most excavator brands.



ABOUT INDECO NORTH AMERICA

For over two decades, Connecticut-based Indeco North America has been a leading provider of heavy-duty hydraulic breakers, compactors, pulverizers and pedestal booms for demanding demolition, scrap, recycling, mining and road construction applications. The U.S. arm of Italy's INDECO Ind. SpA, the company oversees Indeco operations in the U.S., Canada, and Mexico with a diverse and broad range of products including the world's largest hydraulic breaker, the HP 25000.



Today, thousands of Indeco North America demolition attachments can be seen on every type of carrier at every type of construction, recycling, mining or demolition site. Whether you need to build roads, crush rocks, mine gold or trench river ways, Indeco North America has a world-class solution for your application. For additional information, please visit www.indeco-breakers.com.



All company, brand, and product names referenced herein may be trademarks or registered trademarks of their respective owners.



CONTACT:

Bill Pankracij    

Marketing & PR

Indeco North America

Phone: (203) 713-1030 ext. 310              

Email: bpankracij@indeco-breakers.com



More from Agricultural & Farming Products