Wheel Chock is reusable for intermodal auto shipments.
Press Release Summary: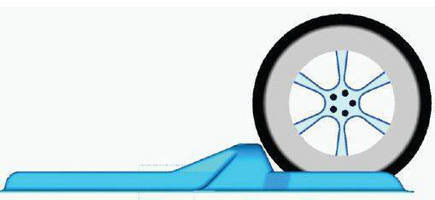 With estimated life of 12-15 turns, Reusable Wheel Chock secures cars during intermodal transit and can be pried up and used for subsequent shipments. Single-piece design accelerates vehicle loading/unloading and can withstand up to 4,000 lb per load without crushing. In test, 5,200+ lb of pulling force was required to dislodge chock from 1.50 in. hard wood floor. Sustainable shipping solution, made from 100% recycled materials, is nestable for storage and return on trucks.
---
Original Press Release:

Reusable Wheel Chock Offers Fast Payback, Replaces Wood Blocking for Intermodal Auto Shipments



NEW CONCORD, OH - Automobile shippers no longer need to resort to wood blocking to secure cars during intermodal transit. The new Reusable Wheel Chock from Paylode® quickly pays for itself while also speeding up the loading/unloading of vehicles.

"The invention of the Reusable Wheel Chock was a collaboration of the Union Pacific Railroad and Paylode who worked together to create a cost-effective solution to transport cars over intermodal," says Roy Fehrman, technical service engineer, Paylode.

"Shippers can pry up our wheel chock and reuse it, unlike one-and-done wood blocking," says Fehrman. "Rather than continue to purchase more blocking, shippers will typically see a payback after about five uses. Our Reusable Wheel Chock also takes one-third of the time to place opposed to a standard chock. This is because several pieces of wood must first be cut to form a horseshoe shape, then nailed three blocks high around the tire, all of which takes considerable time. The Reusable Wheel Chock is one simple lightweight piece, nailed down once, and used many times."

The Reusable Wheel Chock can withstand up to 4,000 lbs. per load without crushing and has an estimated life of between 12 and 15 turns. In a recent test, more than 5,200 lbs. of pulling force was required to dislodge the chock from a 1.50ʺ hard wood floor.

Reusable Wheel Chocks are also nestable-stacked one inside another for easy storage and return on trucks. Shippers interested to quantify their potential savings can receive a free Payback Analysis from Paylode.

Besides reduced operating costs, the Reusable Wheel Chock, made from 100 percent recycled materials, offers automobile transporters a sustainable shipping solution. At end-of-life, Paylode will buy back the product at a per-pound rate, then recycle the plastic and create new units from it.

To test the Reusable Wheel Chock on intermodal automobile shipments, or for additional information, contact Paylode at 877.421.2914 or visit www.paylode.com.

Visit www.paylode.com to learn more or call the company at 877.421.2914.

About Paylode
Paylode® offers a unique range of reusable cargo protection equipment to help companies drive sustainability efforts while protecting product in transit. Paylode's 100 percent recycled products replace disposable dunnage that produces waste and increases operating expense along the supply chain. In addition to supplying a full range of damage-protection products, Paylode's experienced engineers work with companies to design optimal load plans for rail, intermodal and truck distribution systems and also offer track-and-trace software to manage Paylode equipment. To learn more about Paylode, visit www.paylode.com.

More from Agricultural & Farming Products