What it's Like to Drive a Toyota in 2030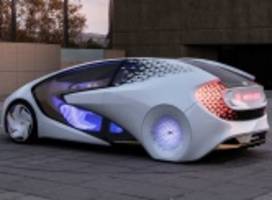 In a perfect world, we think everything should be on wheels. Until then, we'll settle for a future with self-driving cars, like this Toyota Concept-i that recently took the 2017 Consumer Electronics Show (CES) by storm. Equipped with Artificial Intelligence, the car adapts to your preferences and even anticipates your needs.
Inside its Lamborghini-like doors, the Concept-i uses a visual interface known as Yui to communicate with drivers via light, sound and even touch (it reaches out to shake your hand to start the car).
Design engineers used the Twelve Principles of Animation developed by Disney in the 30s to give Yui mannerisms, such as shrinking or stretching, that convey emotion to communicate with drivers. Yui can even evaluate your mood, based on biometric sensors placed throughout the car, and adjust its driving accordingly to enhance driver safety. And whenever you feel like driving yourself, the car can easily switch to manual mode.
Hamilton Caster
1637 Dixie Highway
Hamilton OH 45011-4041
Phone: 513-863-3300
Url: http://www.hamiltoncaster.com/
More from Packaging Products & Equipment