Wet Pickup DC Vacuum Motors feature bearing protection.
Press Release Summary: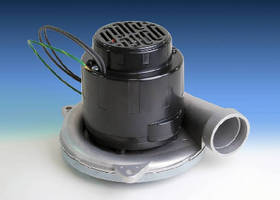 Providing 36% energy efficiency, 6.6 in. Two-Stage Vacuum Motors are designed with Eternity Brush, which extends average life span to more than 1,500 hours on line voltage, and, in many instances to 3,000+ hours in low-voltage applications. To protect bearings from grease wash out, motor design places bearings in clean dry area and relocates cooling fan. Design also includes labyrinth run-in seal for added protection.
---
Original Press Release:

Ametek Wet Pickup Vacuum Motors Offer Efficiency Ennhancements and Improved Bearing Protection



KENT, OH—AMETEK Floorcare & Specialty Motors has eliminated the number one cause of failure for vacuum motors used in wet pickup applications with enhancements to its patented bearing protection.  The latest generation of AMETEK wet pickup vacuum motors also offer enhanced performance and improved energy efficiency. 



Bearing protection improvements involved moving the motor's bearings to a clean dry area and relocating the motor's cooling fan.  The enhanced design also includes a labyrinth run-in seal for added protection.  The enhanced bearing protection puts an end to operator concerns about motor failure due to grease wash out. This result was proven by the "Suds Test", a special test developed by AMETEK to demonstrate wet/dry vacuum performance.



With enhancements to both the motor and fan design, AMETEK's new 6.6-inch, two-stage vacuum motors outperform similar 3-stage, 5.7-inch diameter motors, while consuming significantly less power.  The 6.6-inch diameter motor is 36% energy efficient versus typical 28% energy efficiency for a three-stage, 5.7-inch diameter vacuum motor.



The two-stage, 6.6-inch vacuum motor also is significantly quieter.  Tested from 0.5-inch to 0.875-inch effective orifices, the 6.6-inch diameter motor is three decibels lower in overall sound and about five sones quieter.  Sones are a measure of loudness that takes into account irritating high-pitch frequencies discernable to the human ear.



In addition, the 6.6-inch DC vacuum motor is designed with AMETEK's new Eternity Brush.  The patented long-life brush technology enables AMETEK to extend the average life span of its vacuum motors from 700 hours to more than 1500+ hours on line voltage, and, in many instances, to exceed 3000 hours in low-voltage applications.



For users of series universal vacuum motors, the motor enhancements and improvements translate into motors with longer life spans and fewer motor failures from grease washing out of the bearing.  In practical terms, it means longer shifts without the need to recharge as well as additional power available from low-voltage equipment for other demands.



AMETEK Floorcare & Specialty Motors is a division of AMETEK, Inc, a leading global manufacturer of electronic instruments and electromechanical devices with annual sales of more than $3.0 billion.  For more information, contact AMETEK Floorcare & Specialty Motors, 100 East Erie St., Kent, OH  44240. Tel: 330-673-3786. Fax: 330-677-3812. Web site: http://www.ametekfsm.com/













More from Adhesives & Sealants