Wet Electrolytic Tantalum Capacitors operate up to 200°C.
Press Release Summary: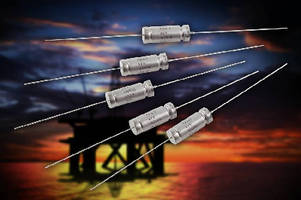 Hermetically sealed in welded tantalum can and header assembly, TWA-Y Series is capable of up to 2,000 hours of operation with applicable derating. High capacitance cathode system enables high CV performance in standard DSCC case sizes spanning T1-T4. Manufactured in accordance with CECC 30 202-01 (EN 130202), series offers capacitance values from 150–1,000 µF with ±10% or ±20% capacitance tolerance, voltages from 50–125 V, and temperatures spanning -55 to +200°C.
---
Original Press Release:

AVX Introduces New High CV, Long Lifetime Wet Tantalum Capacitors Designed for Use at 200°C



Hermetically sealed for use in harsh, high temperature aviation, industrial, down-hole, & military applications, the new TWA-Y Series capacitors provide high-reliability, high CV performance for up to 2,000 hours of continuous use



FOUNTAIN INN, S.C. – AVX Corporation, a leading manufacturer of passive components and interconnect solutions, has introduced a new series of wet tantalum capacitors designed for use at 200°C, many of which are capable of up to 2,000 hours of operation with applicable derating. Featuring a high capacitance cathode system that enables high CV performance in standard DSCC case sizes spanning T1 – T4, the new TWA-Y Series delivers high reliability, high temperature, and long lifetime performance, and exhibits stable electrical parameters over temperature (-55°C to +200°C). Hermetically sealed in a welded tantalum can and header assembly, TWA-Y Series capacitors satisfy the harsh mechanical shock and high frequency vibration requirements for both MIL-PRF-39006 and MIL-STD-202, making them ideal for use in high temperature avionics, industrial, down-hole, and military applications.



"Exhibiting high reliability and high capacitance performance at 200°C, with endurance ratings  up to 2,000 hours, the new TWA-Y Series hermetically sealed wet electrolytic tantalum capacitors provide design engineers with an extended range of temperatures and CV values, enabling a range of new, next-generation electronics for harsh environment applications," said Allen Mayar, product marketing manager at AVX.



Manufactured in accordance with CECC 30 202-01 (EN 130202), the TWA-Y Series is currently rated for capacitance values spanning 150 – 1,000µF with a ±10% or ±20% capacitance tolerance, voltages spanning 50 – 125V, and temperatures spanning -55°C to +200°C; however, several additional capacitance and voltage ratings are in active development. Supplied with either SnPb 60/40 or lead free compatible and RoHS compliant matte tin terminations in a tray pack, lead time for the series is 10 – 14 weeks.



For more information about AVX's TWA-Y Series wet electrolytic tantalum capacitors designed for use at 200°C, please visit http://partbuilder.avx.com/p/pb/pdf/TWA_Y.PDF to access the datasheet. For all other inquiries, including requests for custom component design, please visit www.avx.com, call 864-967-2150, or write to One AVX Boulevard, Fountain Inn, S.C. 29644.



About AVX

AVX Corporation is a leading international supplier of electronic passive components and interconnect solutions with 21 manufacturing and warehouse facilities in 12 countries around the world. AVX offers a broad range of devices including capacitors, resistors, filters, timing and circuit protection devices and connectors. The company is publicly traded on the New York Stock Exchange (NYSE:AVX).



For more information, contact:

Allen Mayar

Product Marketing Manager, AVX

864-228-4540

allen.mayar@avx.com

More from Electronic Components & Devices