Well Water Filter and Seal suit residential applications.
Press Release Summary: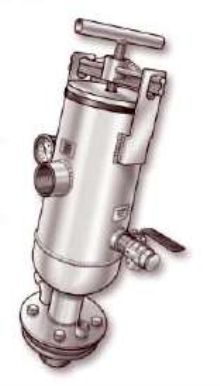 With rugged design to provide aggressive water filtration, OTTER FILTER combines well water filter and well seal into one product. Featuring stainless steel construction, unit offers brass pressure relief valve, pressure gauge, and ball valve that enables periodic flushing of debris from filter. Well seal plate includes electrical conduit outlet and outlet port. OTTER FILTER keeps well water free of contamination and impurities such as sand, rust, dirt, and scale.
---
Original Press Release:

THE OTTER - a Superior Residential Well Water Filter and Well Seal


Morrill Industries, Inc - a world leading industrial irrigation equipment designer and manufacturer is proud to announce the introduction of the industry's only residential well water filter and well seal product - the OTTER FILTER.

Residential homeowners who depend on well water for their water supply can now protect their water from the harmful and damaging effects of external contamination with the advanced OTTER FILTER. The OTTER FILTER is built smart and rugged to provide well case sealing and aggressive water filtration that should last a lifetime with proper care.

Homeowners know the importance of protecting their water supply. But keeping well water free of contamination and impurities such as: sand, rust, dirt, and scale is often a losing battle. The OTTER FILTER removes rust, sand and grit before it can damage or clog your appliances, faucets, showers, and lawn sprinkler system...and before you or your family have to drink it.

The OTTER FILTER is designed for easy installation and maintenance. Because of industrial strength stainless steel construction the OTTER FILTER is superior to those cheap, plastic filters that wear out, crack and are troublesome and costly to replace. Critical parts such as the filter screen, housing and well seal flanges are constructed from industrial strength stainless steel.

The OTTER has many important features:
1) Combines a Well water Filter and Well Seal into one product
2) Fits almost any residential well
3) Has a 10 year Guarantee
4) Rugged Stainless Steel construction
5) A brass pressure relief valve that protects your expensive piping system.
6) A pressure gauge to help monitor system pressure and maintain peak performance.
7) A ball valve that enables you to periodically flush debris from your filter.
8) An electrical conduit outlet on the well seal plate.
9) An outlet port on the well seal plate for testing.
10) Combines a Well water Filter and Well Seal into one product

Whether you're drilling a new well or wanting to protect or improve your current well water quality the OTTER FILTER is the perfect solution.

ABOUT MORRILL-INDUSTRIES, INC.
Since 1953 Morrill Industries, Inc. has been the leader in the design and manufacture of top quality industrial irrigation equipment and products for the irrigation industry. Every product reflects superior craftsmanship, workmanship and durability. Their products are found throughout the US and the world in a wide range of industries and applications including: farms, ranches, golf courses, municipal waterworks, forest land and developments around the world. Morrill-Industries operates their state-of-the-art manufacturing out of Escalon, California.

For additional information please contact Morrill Industries, Inc.

Mike Morrill
Phone: 209.838.2550
Email: mike@morrill-industries.net


More from Computer Hardware & Peripherals