Welker Mini Pins for Precision Part Location in Small Spaces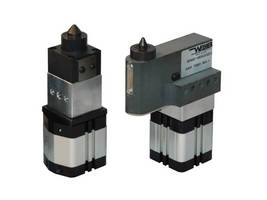 Welker Mini Retractable Locating Pins are the perfect fit for compact spaces with limited accessibility. Equipped with 2-way or 4-way locating pins, up to 25mm diameter for inline unit and up to 19mm for offset unit. Both units have standard integral net surfaces. Welker Mini Pins incorporate an anti-rotate feature, offer rap or rigid couplers and require no lubrication. Optional palm button is available for manual operation. Lightweight aluminum unit is weld-spatter resistant, ideal for seating exhaust assembly, end effectors, instrument panels, and trunnions. For more info and videos visit http://www.welkerproducts.com/minipins.php



For more than 80 years, Welker Engineered Products has helped manufacturers achieve their objectives of performance and reliability. Serving the automotive and transportation, industrial, agricultural and special machine industries among others, Welker prides itself in its ability to assess the application needs of its customers and provide innovative solutions. Long recognized for expertise in self-lubricating plane bearing technologies, over the last 20 years Welker has developed many "Best-in-Class" automation components. These products complement Welker's plane bearing technologies by providing maintenance free solutions for today's flexible manufacturing environment. Welker produces standard components for locating, clamping, sliding, lifting, ejecting, transporting, stopping and rotating applications.



More from Mechanical Components and Assemblies