Welding Rods, Wire and Electrodes
Welding Wire is rated for earthquake-prone areas.
Press Release Summary: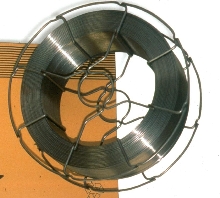 Classified under AWS A 5.20-95, Coreshield® 6 E70T-6 flux cored wire is suitable for bridge and structural applications in seismic areas. It meets FEMA 353 specs for welding in earthquake-prone regions. Wire provides smooth and stable arc, low spatter, easy-to-remove slag, and lower fume generation level. Coreshield 8 exhibits same characteristics as Coreshield 6, but is for all position welding. Coreshield 6 is for flat and horizontal positions.
---
Original Press Release:

ESAB's Coreshield® 6 Combines User-Appeal with Weld Quality and Toughness


FLORENCE, SC - ESAB Welding & Cutting Products is pleased to announce the latest addition to its line of Coreshield® wires. Coreshield 6 is an E70T-6 self-shielded flux cored wire, classified under AWS A 5.20-95. ESAB developed this new wire especially for bridge and structural applications in seismic areas. It meets FEMA 353 Specifications for welding in earthquake-prone regions.

"The benefits of Coreshield 6, however, go far beyond the toughness of the welds it produces," says Dwight Myers, ESAB's Product Business Manager for Cored Wires. "What makes this new product so outstanding is the fact that it combines strength and exceptional weld quality with extremely high welder appeal," he explains. According to Myers, welders using Coreshield 6 are noticing better characteristics such as a smooth and stable arc, low spatter, easy-to-remove slag and a lower fume generation level making Coreshield 6 more "user-friendly" than any other wire in its class.

Coreshield 6, which is ideal for welding in the flat and horizontal positions, joins another recent addition to ESAB's cored wire line-up, Coreshield 8. While Coreshield 8 exhibits the same welder-friendly characteristics as Coreshield 6 - and meets FEMA's seismic toughness requirements - it is designed for all-position welding. Because these wires are self-shielding, they are also easier to use for applications in the field including retrofit work.

"When we developed these wires, we were responding to a growing market need," says Dwight Myers, referring to the stringent regulations for both new and existing construction in seismic areas, particular on the west coast. "We wanted to offer fabricators a welding filler metal option that would not only allow them to meet building codes, but also significantly enhance their productivity because it's easy to use by welders with any level of experience," Myers states.

So far, the reaction to ESAB's new Coreshield wires - by both fabrication companies and union organizations responsible for welder training - has been extremely positive.

ESAB is the world's largest manufacturer of equipment and filler metal products for welding and cutting. The company's U.S. headquarters are based in Florence, South Carolina, with its filler metals division in Hanover, Pennsylvania. For more information on Coreshield wires, including technical specifications, contact Dwight Myers at 800-933-7070 or dmyers@esab.com.

COMPANY
ESAB Welding & Cutting Products

ADDRESS
801 Wilson Avenue PO. Box 517 Hanover, PA 17331-1058

PHONE
(717) 637-8911

FAX
(717) 637-9859


Related