Welding Systems offer actionable insight via software.
Press Release Summary: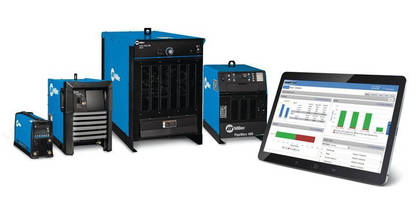 Continuum™ MIG welder, Dynasty® 280 DX TIG welder, PipeWorx 400 welding system, and SubArc Digital series are available with active and passive welding information management software, Welding Intelligence™, that transforms data into insightful and actionable information. Insight Core™ monitors, collects, and transmits electronic weld data to any Web-connected device, whereas Insight Centerpoint™ provides real-time operator feedback and process control.
---
Original Press Release:
Miller Expands Welding Intelligence(TM) Solutions to Help Drive Continuous Improvement
Welding information management systems are now available on more machines, providing valuable insight to improve welding operations

APPLETON, Wis. – As part of its Welding Intelligence™ solutions, Miller Electric Mfg. Co. has expanded its welding information management software to multiple power sources, including the Continuum™ advanced MIG welder, Dynasty® 280 DX TIG welder, PipeWorx 400 welding system and SubArc Digital series.

Miller Welding Intelligence is a category of active and passive software that transforms data into meaningful insights and actionable information to drive continuous improvements in the welding operation. The focus of these solutions is to help increase productivity, improve quality and manage costs. Additional benefits include:

• Complete fleet coverage: Solutions available for new and existing Miller equipment, as well as non-Miller machines.

• Complete application coverage:  MIG, TIG, pipe and submerged arc machines now available with Welding Intelligence solutions.

• Scalable solutions: The choice of simple passive systems or more sophisticated active systems.

For example, Insight Core™ monitors, collects and rapidly transmits electronic weld data to any Web-connected device, whereas Insight Centerpoint™ is an advance solution that provides real-time operator feedback and process control. ARCAgent™, from the recent IMPACT Engineering acquisition, allows customers with mixed power source fleets to implement Welding Intelligence solutions on non-Miller machines.

Insight Centerpoint has been upgraded to Centerpoint 9.0 software. This software offers feature improvements, such as a new Library Manager tool that better organizes weldment drawings and photos, and a more visual dashboard layout with speedometer-style performance indicators. Insight Centerpoint 9.0 also offers a persistent operating system that automatically picks up in sequence where the operator left off, following a power cycle. Other improvements include:

• Smart Part Tracking: This feature calculates the deposition required for the weld when the welding operator enters a weld symbol and fillet size, helping ensure consistent weld quality.

• Standard AWS weld symbols: These provide annotation of the weldment to help save production and planning time. Previous versions required these to be created individually by the customer.

• Codes and Standards module: Captures required information relating actual welding parameters to a specific welding operator, contract, joint and weld pass to ensure productivity and quality requirements are met.

More on Welding Intelligence solutions

• Continuum advanced MIG welder: This new generation of advanced industrial welding solutions offers exceptional arc performance, an easy-to-use interface and system flexibility and is designed for the heavy industrial manufacturing space. Insight Core comes standard and Insight Centerpoint is an optional upgrade. The two solutions help companies identify operator training opportunities, increase arc-on time and/or throughput, and prevent quality issues.

• Dynasty 280DX TIG welders: This portable AC/DC TIG/Stick inverter power source utilizes the Insight technologies for a variety of industries, including aerospace, heavy fabrication, aluminum ship repair, and pipe and tube fabrication. For the aerospace segment, Insight Core is standard and provides the ability to manage productivity and quality, while the optional Insight Centerpoint offers a solution to improve quality and provides record retention to reduce audit failure.

• PipeWorx 400 welding systems: Designed specifically for pipe fabrication shop welding, this system features streamlined set-up and quick process changeover. The optional Insight for Pipe and Vessel allows pipe fabricators to record welding parameters for a specific joint, allowing them to gain real-time data collection to efficiently track productivity and quality metrics. The flexible design offers ERP integration so fabricators can import and export jobs in a generic file format, and easily integrate with current business software programs. The result is reduced data entry time and errors associated with manual weld data collection.

• SubArc Digital series: These power sources have the capacity to handle submerged arc (SAW) and electroslag (ESW) welding applications, from traditional DC single-arc to multi-wire tandem welding for welding in the pressure vessel, heavy fabrication, pipe manufacturing and shipbuilding industries. The easy-to-install 14-pin Insight Core module provides quality and productivity tracking capabilities to deliver actionable information, so companies can take steps to reduce costs, boost output, increase product quality and improve the bottom line.

For more information about the benefits of Welding Intelligence, please visit MillerWelds.com/Insight.

About Miller
Miller Electric Mfg. Co., headquartered in Appleton, Wisconsin, is a leading worldwide manufacturer of Miller brand arc welding products and is a wholly owned subsidiary of Illinois Tool Works Inc. (NYSE: ITW). For more information, visit www.MillerWelds.com, call 1-800-4-A-Miller (800-426-4553), email info@millerwelds.com, fax 877-327-8132, or write to Miller Electric Mfg. Co., P.O. Box 100, Lithonia, GA 30058.

Contact:
Monica DeBrot
Two Rivers Marketing
515-557-2068
monicad@2rm.com