Welding Sleeves exceed Hazard Risk Category 4 standards.
Press Release Summary: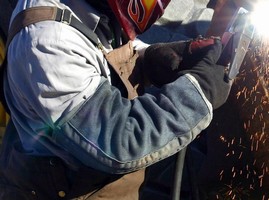 Featuring 3-layer design that encapsulates armor material to provide protection, X-Treme welding sleeves are suited for harsh applications such as carbon-arc, sub-arc, spray-arc, and heavy-arc welding, as well as pipe and heavy TIG welding and MIG welding. They are made of fire retardant fabric that contains oxidized polyacrylonitrile fiber with Aramid strengthening agent, and does not char or shrink when exposed to heat. Designed to fit everyone, sleeve can be worn over shirt/jacket.
---
Original Press Release:

New Torch Wear® X-Treme Welding Sleeve Announced



TWINSBURG, OH-May 4, 2007- A new protective welding sleeve has been announced by Torch Wear. Torch Wear X-Treme welding sleeves feature a three-layer design which encapsulates Torch Wear armor material to provide superior protection. The sleeve is intended for harsh applications such as carbon-arc, sub-arc, spray-arc and heavy-arc welding, as well as pipe and heavy TIG welding and standard MIG welding. X-Treme welding sleeves significantly exceed Hazard Risk Category 4 Standards, unmatched in the welding marketplace. One size fits all, with the sleeve designed to be worn over a shirt or jacket.

Torch Wear fabric provides superior protection while being comfortable enough to wear next to the skin. When exposed to intense heat or flame, the fibers will carbonize and then expand, dramatically reducing the oxygen content within the fabric. Unlike many of the most widely used fire-retardant fabrics currently available, Torch Wear fabric will not char, shrink or burn when exposed to heat and flame. The fabric is not a chemically treated material. Rather, it is a yarn created by spinning oxidized polyacrylonitrile fiber with an Aramid strengthening agent. Standard Torch Wear garments meet Hazard Risk Category 2 Standards.

Torch Wear functional heat-resistant protective clothing has been developed by celebrity welder Paul "Torch" LeSage, formerly the exclusive welder of the National Hot Rod Association for over twenty-five years.

The Torch Wear line of protective clothing includes overalls, aprons, coats, and heat sink pads. Torch Wear products are sold exclusively through professional safety and welding distributors.

Inquiries should be sent to
Torch Wear,
2374 Edison Blvd., Twinsburg, OH 44087,
PH 800-479-7165 or 330-425-2738,
FAX: 330-425-2739.
Web: www.torchwear.com
Email: info@torchwear.com
Attn: Leo Seitz.

More from Materials