Welding Robot features internal cabling design.
Press Release Summary: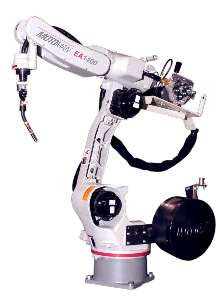 Six-axis Expert Arc EA1400 offers 54.6 in. horizontal reach, 95.35 in. vertical reach, and 0.003 in. repeatability. Cabling design reduces wear against arm, part, or fixture and minimizes motion required for torch reorientation. Torch barrel mounts to arm with integrated shock sensor that minimizes damage in event of crash with part or tooling. Model XRC 2001 controller offers icon-driven menus and can operate up to 4 robots, reducing risk of collision.
---
Original Press Release:
Motoman's New EA1400 Arc Welding Robot Provides No Cable Interference, Plus Expanded Range of Motion
Dayton, Ohio - Motoman's new EA1400 "Expert Arc" welding robot features a patented internal cabling design that provides high flexibility and also streamlines the robot profile, allowing access into confined spaces. The new design improves cable life by reducing wear against the arm, part, or fixture, and also reduces cycle time by minimizing the motion required for torch reorientation. Additionally, the EA1400 reduces programming time, since cable interference issues are eliminated. The high-performance six-axis EA1400 features a 1,388 mm (54.6") horizontal reach, 2,422 mm (95.35") vertical reach, and ±0.08 mm (0.003") repeatability. The EA1400 can work in very tight spaces or on workpieces positioned close to the manipulator arm. It features an expanded range of motion on its B-axis that provides improved circumferential welding on cylindrical workpieces and also eliminates possible cable interference on long, continuous welds. Regardless of torch orientation or part size or shape, the new design prevents bent, pinched or stretched cables that can lead to wire feed problems and imperfect welds due to binding by torch cable slack. The hollow upper arm maintains the optimum bend radius of the welding torch cable, maximizing weld performance and extending cable life. The new torch cable is up to 25 times more durable than the old style of cable. Replacing the torch cable takes only five to 10 minutes. Replacing the torch barrel is also quick and easy, requiring just one minute to complete disassembly and reassembly. The torch barrel mounts to the arm with an integrated shock sensor that minimizes damage in the event of a crash with a part or tooling. The EA1400 is controlled by the XRC 2001 robot controller. Many advanced welding features are built in to the XRC 2001 controller that features icon-driven menus on the award-winning ergonomically designed programming pendant. The Multiple Robot Control capability of the XRC allows the ability to operate up to four robots from a single controller - offering a patented method of multiple robot control, as well as a single point of control from one programming pendant to maximize productivity. Multiple Robot Control reduces the risk of collision. Using a single controller versus four separate controllers also reduces integration costs due to less I/O and safety hardware, fewer wiring points, and reduced wiring and engineering labor. For more information on Motoman products and services, call 937.847.6200, write to Motoman Inc., 805 Liberty Lane, West Carrollton, Ohio, USA 45449, or visit the corporate website at www.motoman.com.
More from Adhesives & Sealants